© Getty Images
Trendy 2013 Hairstyles: New York, New York
Everybody who is interested in fashion and beauty keeps looking to New York. Twice a year during the Fashion Weeks, New York is even more of a fashion metropolis than the rest of the year. It is here in New York where fashions for up and coming seasons are born. Here is our take on the new hair fashion: The new hairstyles for the spring/summer season 2013 are stunningly beautiful and most of all wearable. We like to show you our hairstyle favourites from the New York Fashion Week shows

Designers are most interested in keeping the focus on their fashion creations rather than the hairstyles of models. They therefore prefer keeping the hairstyles of the models on the plain side with sleek ponytails, wet looks, classic chignons, and naturally looking long hairstyles with middle parting. Like always, these hairstyles dominated.

Leading Edge 2013 Hairstyles as Seen in New York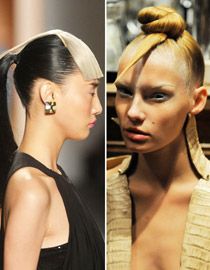 Of course, the focus on outfits does not ban all extravagant and slightly off-kilter hairstyles from the New York Fashion Week shows. After all, being edgy and creative is a professional requirement for designers and hair stylists alike. Some fashion designers explicitly ask for creative hairstyles.
Our eyes are of course peeled for new beautiful and wearable hairstyles. Many of the new New York Fashion Week hairstyles fit into this category. Models showcased voluminous quiffs, asymmetrical updos, new braiding styles and plenty of hair piled up in the back of the head. You find examples of these new styles in our gallery.
Gallery: New York Hairstyle Trends for 2013
This giant wave across the crown of the head is certainly eye-catching. The wave is part of an updo shown on the catwalk by a model for Melissa Fleis (Project Runway)

We particularly liked this hairstyle presented by the Kuning fashion house. The hair at the base of a low sideways ponytail is artfully intertwined to form a knot. First, the hair on the crown of the head is separated. Then the remaining hair is pulled in the direction of one ear and folded inward two or three times at ear level. The hair from the crown of the head is then wrapped around the folded lower portion of the hair. The resulting knot-like structure is then secured with bobby pins. You may also pull a thin strand of hair out of the ponytail and wrap it around the ponytail base

This is certainly inventive! The hair is sleeked back with the help of wax and twisted into a low chignon. In the place of jewellery, series of bobby pins are lined up in two places with the larger line-up on one side and the other in the back right next to the chignon. Models demonstrated this chignon version for the "Not" label by Jenny Lai

We invite you to use new styles of braiding! In the braiding variations by Daniella Kallmeyer (left), a thin French braid merges into a thick high ponytail braid. Herve Leger created the hairstyle on the right for Max Azria. On both sides, a strand of hair next to the model's temple is separated to start a French braid toward the back. Just past the ear, the strand continues as a thin regular braid, which is then combined with the braid from the other side of the head and secured

The ponytail of this model for Zang Toi is teased and the top hair is then straightened until it is very smooth. The end of the large-volume ponytail is secured with a thin scrunchy before it is folded under and secured with hidden pins at the base of the ponytail. Fanning the ponytail out to both sides creates even more volume

Trendy 2013 Hairstyles: Giant Wave
---
This giant wave across the crown of the head is certainly eye-catching. The wave is part of an updo shown on the catwalk by a model for Melissa Fleis (Project Runway)