© Getty Images
New York Fashion Week 2011: Must-Have Fashion
The New York Fashion Week 2011 displayed the new must-have fashion for fall and winter 2011. It is elegant, puristic and sophisticated with cosmopolitan flair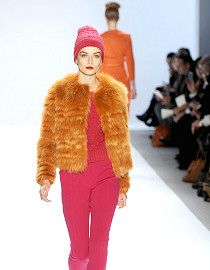 US First Lady Michelle Obama loves the creations of the Indian designer Naeem Khan. He was one of the last designers to present his creations at the New York Fashion Week. Fashion show visitors awaited his designs with much excitement and were spell-bound by his opulent, elegant and richly embroidered gowns.

For a week famous designers and their up and coming competitors displayed the new must-have fashion for the coming fall and winter. The new fashion is delightfully colourful. In the fashion world, the candy red, canary yellow and grass green creations of the Victoria Beckham collection find quite a bit of earnest appreciation, just to name an example. The ethnic Oriental patterns of the designer Mara Hoffman were also greeted with excitement. The style of the creations by US designers like Donna Karan and Kalvin Klein were minimalistic like always. The US designers preferred delicate pastel colours and skin tones. Fur is still very popular. Michael Kors dyed his fur creations in flamboyant flashy colours like for example bright orange. In contrast, Oscar de la Renta, Helen Yarmak and Donna Karan left their fur creations as nature intended them to look.

There were mostly three hair styles, namely the plain sleek look with very shiny hair, geometric and sometimes rather androgynous (unisex) haircuts and updos, which could not be piled up any higher. We show you the most beautiful looks as shown at this year's New York Fashion Week.
Looks New York Fashion Week 2011
Painted eyelashes and a pert chignon on top of the head go well with the ocean green satin gown by Kati Stern as shown at the Venexiana show
Donna Karan celebrates pure beauty: The subtle make-up and the generous chignon go well with the nougat-coloured pixie dress
Star designer Naeem Khan does not hide his Indian roots. His dresses dazzle with generous embroidery. The model wears her very shiny hair neatly parted and tightly pulled back
Jenny Packham is the Goddess of evening gowns. Her models wear elegantly draped metallic dresses and very naturally falling hair styles
Amy Winehouse would be green with envy. This beehive hair style may make the Guinness book of records for beehive hair styles. However, the hair style contrasts nicely with the rather plain outfit shown by the independent Finnish label IVANAhelsinki
Luminescence is the key word. This look by the Korean designer Son Jung Wan dazzles with glistening copper-red hair and a silvery silk dress
The pink poodle does not quite match the flamingo-coloured dress by Isaac Mizrahi. The knot high on top of the head sets the attention-getting accent
The model looks elegant rather than athletic in this striped gown by L.A.M.B. The hair style crowns this outfit, literally
Victoria Beckham presents a standard look and her collection shines in bright futuristic colours.  Her models hide their hair underneath black stocking caps
Kati Stern
---
Painted eyelashes and a pert chignon on top of the head go well with the ocean green satin gown by Kati Stern as shown at the Venexiana show
Weblinks New York Fashion Week