© Schwarzkopf
Hairpins: Romantic Hairstyles for Valentine's Day
Love is in the air! The day of love is getting closer and closer, and that means racing heartbeats, romantic dates, and butterflies in your stomach. Whether you spend Valentine's Day with your sweetheart, BFF, or crush, we have the perfect Valentine's Day hairstyles for you. This year's secret weapon is hairpins: In no time at all, you'll have a hairdo with the wow-factor.
Hairpins and bobby pins are our secret everyday heroes, because they ensure elaborate hairstyles stay in place and keep annoying strands at bay. Most of the time hairpins and bobby pins remain hidden, but on Valentine's Day we're putting them on show and giving them the attention they deserve. No more hide-and-seek: Instead of choosing hairpins in the same shade as our hair color, we're using eye-catching pins that will make the hairstyle pop. Wondering how to wear your hair on the date? We show you how to create romantic looks in next to no time, suitable for both long and short hair.
Valentine's Day hairstyles for long hair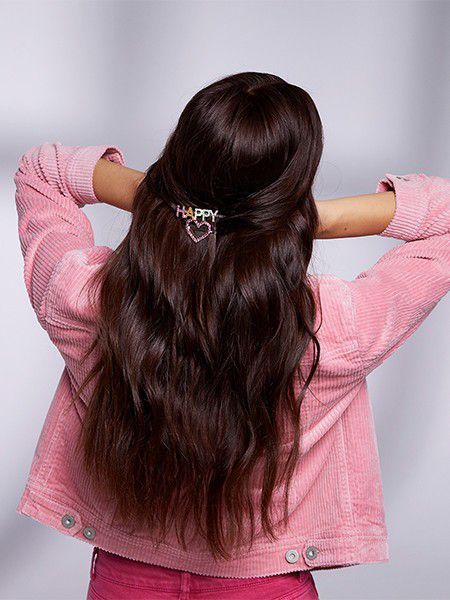 Whether you're having your hair down or in an updo: hairpins give your romantic Valentine's Day hairstyle that extra something. If you want to have your hair loose, there's still lots you can do. For example, clip two bobby pins decorated with diamantes or pearls into your hair at temple level and use some shine spray for a glamorous appearance. You can also attach the hairpins to the back of your head. To do this, take a strand of hair from the front left and front right, twist them individually, then wrap them around to the back of your head. Use bobby pins to keep the strands together, fix them with hairspray and the look is complete!
An idea for an eyecatching date hairstyle is to make a bun and decorate it with hairpins.
Here's how to do it: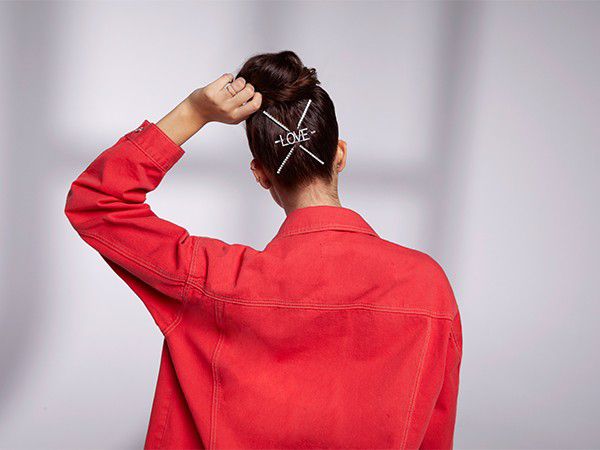 Comb your hair thoroughly and tie it up in a high ponytail.
Wrap the ponytail around the hair tie to make a bun - for more volume use a hair donut.
First of all, use classic bobby pins to fix your bun and any strands in place. Make sure that the pins are not visible.
Now set your hairstyle with a bit of hairspray.
Pick out some hairpins to spice up this Valentine's Day hairstyle. These can be simple, shiny gold, silver, or rosé gold hairpins, or you can choose pins with small appliqués attached.
Spray the pins with a little dry shampoo or hairspray to keep them in your hair.
Hairpins are able to create little works of art. For example, you could pin a cross made of glittery hairpins and then have another one in the middle with a statement that matches the Valentine's Day theme, e.g. "Love".
Fix everything in place with hairspray so that your hairstyle survives the date effortlessly.

Valentine's Day hairstyles for shorter hair
The great thing about hairstyles with hairpins is that they work with any hair type and cut. Just pick out matching hairpins and pin them into your hair at temple level. For a fancier look you'll need four hairpins - this hairstyle works just as well with short hairstyles as with bob hairstyles.
Here's how to do it: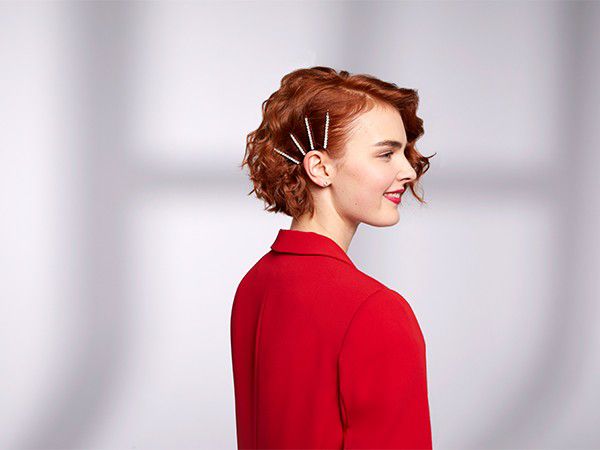 Make a part on the left side of your hair and comb your hair thoroughly.
Comb the hair to the left of the side part so that it's straight. If you have naturally curly hair, use some gel to help smooth it out.
Spray some hairspray onto the hairpins and push them into place. If you arrange them in a semicircle around your ear, it will look especially chic.
The hair to the right of the side part should be more voluminous. Use some volume powder for this.
If you like, you can use a curling iron to curl your hair a little so that it falls naturally onto your face. Remember to use heat protection before using the curling iron.
Finally, fix your hairstyle with a few squirts of hairspray.
Be brave with Only Love Permanent Coloration
Sometimes you have to be brave when it comes to dating. Who makes the first move? Will it end with a kiss? Show how much courage you have before your date and surprise your Valentine with a new hair color. The new Permanent Coloration Only Love provides your hair with a big portion of love, because it is gentle to your hair and scalp. The color shades range from vanilla blond to mokka brown and jet black. Or maybe a beautiful red tone would best suit your hairstyle for Valentine's Day? To avoid any unpleasant surprises, check beforehand if your desired hair color suits you - then nothing can go wrong!