© Getty Images
Hairstyles and Hair Colour Trends for 2014/2015 from Milan
2014 Milan Fashion Week was absolutely amazing with its wearable hair trends that leave us wanting more. This stylish intermezzo won us over with its fresh colours, playful textures and classy ease. We present the trends that you must keep an eye on

At the end of February, a special event was held in Milan. Milan Fashion Week took over the city, and everything on the catwalk became an absolute must fashion-wise. However, clothes alone were not the main focus of observers, but also the trends in hair styling and hair colour.

Hairstyle Trends for 2014/2015: Styling and Hair Colour
Hairstyles at 2014 Milan Fashion Week fuel the imagination while keeping with its traditions. In short: they are wearable, but not boring. Small braided plaits highlighting the classy sleek look, a very low side parting with loosely attached ponytail and hair accessories, for example, in the form of a hat, make 2014/2015 a real eye-catching year.

The hair colour of the year is definitely more noticeable. Platinum blond dominates the colour cosmos and positively attracts attention.

Hairstyle Trend for 2014/2015: the Low Side Parting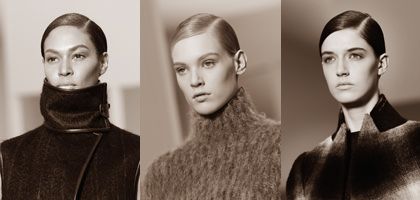 The most popular trend at the Milan Fashion Week is clearly the low side parting. Strong, loose, open, straight, wavy, short or long—there are no limits to the styling possibilities of this new favourite hairstyle.

You will find more hairstyles and hair colour trends in our gallery.

Hairstyles and Hair Colour Trends for 2014/2015
My hair is all wet, wet, wet! The hairstyle, which already was found last season, now comes in a fresh new look: not the cool back-combed style, but with a classic centre parting - the new sexy look for 2014. Models from Christiano Burani are setting the example

Platinum blond has found a place in the sun once again in 2014 and proves to be wonderfully versatile. Futuristically cool or attractively feminine? This hair colour is both. Les Copains plays with the mysterious variations and styles its models tone-on-tone. For a more fiery look, there are brighter colours

Trussardi clearly demonstrates that the 2014 hair colour cosmos has even more to offer. This Milan fashion brand sent its models on the catwalk sporting a fresh strawberry blonde, particularly beautiful with bright red lips

Up-and-coming talents breathe new life on the catwalks of Milan Fashion Week. Young designers focused mainly on trendy accessories with caps, statement jewellery and hats as undeniable features for 2014

The Italian fashion label Moschino pays homage to this short haircut. Its models summarily sported the cheeky bob in various hair colours. Statement jewellery added a feminine and exciting touch

Minimal effort for maximum effect: this hairstyle gets women's hearts beating faster and transforms them into absolute trendsetters. The casual chignon combines two trends from the previous season - the undone look and the bun - which makes them an unbeatable combination. Sharply cut clothing and precisely applied makeup help keep this look from being too casual

Crimped waves are back - at least as far as Giorgio Armani is concerned. Styling faux pas or style of the future? Whether successful or not, this look is thought-provoking

Hairstyle Trends for 2014/2015: The Wet Look
---
My hair is all wet, wet, wet! The hairstyle, which already was found last season, now comes in a fresh new look: not the cool back-combed style, but with a classic centre parting - the new sexy look for 2014. Models from Christiano Burani are setting the example