© Getty Images
The Trendy Hairnet
Wearing hairnets is one of the new hairstyle trends. In 2015, women consider hairnets a fashion accessory for long or short hairstyles rather than just a means of containing hair. Today's fashion hairnets come in many stylish variations for free-flowing hair as well as for updos. We hope the hairstyles with hairnet in our gallery will inspire you

More and more models of famous designers wear hairnets in their catwalk presentations. We examined the new hairstyle trend and show you some of the many ways to wear a hairnet.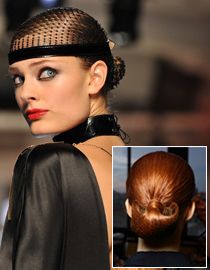 Jean Paul Gaultier is no stranger to extravagant designing. His penchant for unique designs also extends to hairstyles with nets (left photo). He sees many design options. For sophisticated or unique styles his models wear sleek hair, chignons and low side partings. The black hairnet with wide edge trim is pulled over the top part of the head like a cap. The chignon is left uncovered.

In the less eye-catching version (right photo), the delicate hairnet is barely visible. The filigree net is pulled over the updo and secured with bobby pins.


Tip: Hairnets are particularly suitable for sophisticated hairstyles. Filigree hairnets add style and charm to the hairstyles.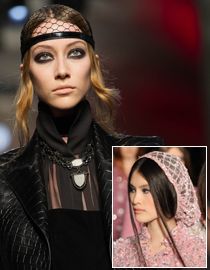 Jean Paul Gaultier shows that cap-style hairnets also work for long hair and undone styles (left photo). The black-rimmed eyes together with the hairstyle and net spark reminiscences of the late 1920s. The styles of the roaring twenties are back!

No rose-coloured glasses are required for the fashions introduced by the luxury fashion house Chanel (right photo). The rose-coloured outfit and hairnet sparkle. The hood-style hairnet loosely covers the long straight hair.

Nihan Peker's new collection embraces minimalist design principles. Light colours, sleek short hairstyles, and hairnets are part of the style. Hairnets are the perfect choice for modern short hairstyles. They increase the retro charm of expressive short hairstyles without distorting the clean lines.

Styling instruction: Style your hair as desired before covering it with a hairnet.