© Getty Images
All about Hair Fashion
Fashions come and go but a few hair fashions stand the test of time. A few hairstyles never really disappear completely. In different variations, they endure over centuries. Hair fashions are an interesting and sometimes revealing topic. Stay tuned for a short excursion into hair fashions

Hair Fashion: Short or Long Hair
Whether you wear your hair long or short, light or dark, straight or curly does not matter if the style suits your appearance and personality. It sometimes may take courage and conviction to follow your own taste but expressing your individuality is well worth it.
Short Hair: Short haircuts come in many variations from boy cut to pixie and bob. You may have to try a few haircuts to find the right short haircut for you.

Long Hair: There are styling variations galore for long hair. Long hair may be cut to even length or may be layered.

More on Wearing Short or Long Hair:
Hair Fashion: Curly or Straight Hair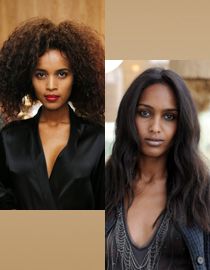 It is amazingly easy to change the consistency of hair. With little effort hair converts from straight to curly and vice versa. While preferences for wild or elegant, curly or straight hairstyles may change and reflect the mood of the time, neither version ever completely disappears from the fashion world.
On the left: By nature, hair may be wild and curly or straight and elegant. Modern styling tools help to wear either type of hair in style.
More on Wearing Hair Curly or Straight:
Hair Fashion: Classic Layered Haircuts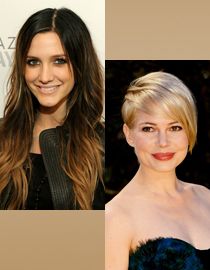 Layer-cutting can shape and enliven hairstyles. Quite often, layered haircuts look casual. They also add nonchalance to hairstyles. It is easy to blow-dry layered hair into a wide spectrum of different modern looks.

On the left: The shading of her long layered hair makes singer Ashlee Simpson's long hair even more appealing. Michelle Williams' short layer-cut hairstyle sparkles with perky design elements.


Hair Fashion: Fringes or Partings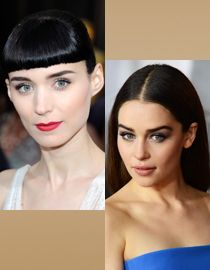 Fringes are very becoming for many women. They are therefore an often used element in hair fashion. On the other side of the style spectrum, partings of all kind are an equally versatile hairstyle element. Fringes and partings are the hairstyle attributes, which must adapt to the facial appearance.
On the left: The striking fringes have become part of Rooney Mara's image. Emilia Clarke prefers straight cut hair with middle parting.
More on Fringes and Partings:
Hair Fashion: Classic Hairstyles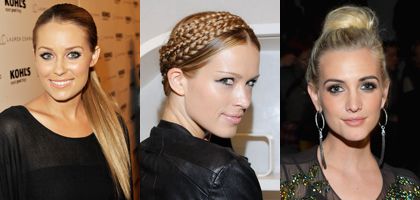 These three popular hairstyles are equally suited for gala events and relaxed times at home.

Ponytail: The many variations of ponytails are arguably the all-time favourites among hairstyles. No other hairstyle is quite as adaptable, beautiful, and suitable for all occasions. Popular style elements like twirls and braids can be easily integrated into ponytail hairstyles.

Chignon: Ponytails are just one easy step away from elegant or casual chignons, which are both beautiful and easy to style.

Braids: Versatility is the common characteristic of classic hairstyles. Braids come in countless variations. They may be simple, French or Herringbone braids; they may be shaped into crown braids, hang down as pigtails or line up in corn rows. You may elect to create one thick braid or many thin braids and your braids may take casual or well-organised forms. There are no limits to your creativity.

More on Classic Hairstyles:
Hair Fashion: Hair Accessories, Hats, Scarfs, and Bandanas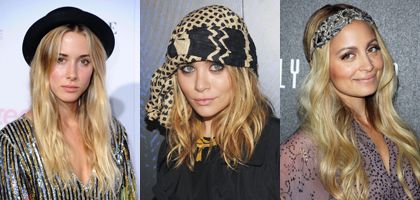 Hair jewellery and fashion accessories like head scarfs, bandanas, and hats are simple ways to add style to your outfits and hairstyles. Naturally, such accessories are and always have been as abundant as they are popular. Hats, Alice bands, and accessories of all kinds catch the eye because they can be delightful expressions of creativity. Let's not mention the ability to hide a not quite so perfect hairdo underneath scarfs and hats and the many ways to tame unruly hair with bandanas, Alice bands and artful hair slides.

Hair Fashion: Hairstyles for Every Occasion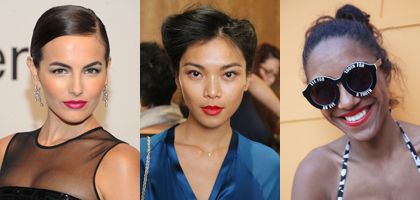 People play different roles in daily life. Suitable hairstyles are required whether you are at home, at work, at a party, at a special event or at your wedding. This is also a chance to embrace the inspiring impressions surrounding you and give your creativity free range. Why not try a unique hairstyle to fit your mood? You may come up with an intriguing combination of old and new hairstyle elements.

More on Hairstyles for All Occasions: