© Getty Images
Samurai Bun: The New Hairdo for Men
From the top knot to the half bun – men are tying up long hair. What's the latest way to tie the (hair) knot? The stylish samurai! Inspired by traditional Japanese warriors and sumo wrestlers, this trendy hairdo is popular among urban men
Battle of the sexes: Women may have to watch themselves – the lords of creation could attempt to take over the hairstyling throne. Long hair is increasingly gaining popularity among men along with a variety of hairdos and styling possibilities. Men are going on a trend offensive with the hip hair knot, winning all along the line!
Chignon for Men: Bun Catalogue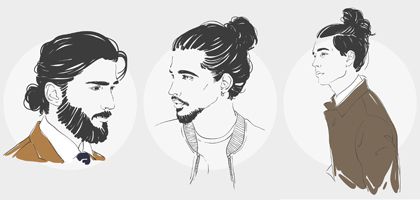 Upwards trend: Tying the hair higher and higher seems to have become a regular (man's) sport. Initial attempts are tentatively concealed at the back of the neck (illustration on the left) for a distinguished and reserved appearance. A hippie undone look is the wildest statement with the loosely tied hair knot – cool with a full bear, and even cooler with a sleek suit!
The lusty high bun (centre) is step higher on the trend ladder. All the hair is pulled back and tied into a small knot at the back of the head. A spontaneous, modern and natural hairdo – what, you may ask, could top that?
Here's your answer: The samurai bun (illustration on the right)! The top hair is tied into a knot even higher on the crown. Casually styled, the reinterpretation of the popular man bun is the rising star among the current hairdo trends.
Samurai Bun: Key Elements
The samurai bun is taking the heads of hip metropolitan warriors by storm! Hair shaved short on the sides is characteristic for this man bun. The hair in the middle is tied into a severe samurai bun on the crown or at the back of the head: The longer the top hair, the wilder the knot! To make sure this hairdo stands up to the battles of everyday life, secure the knot with two hair elastics (more erect with better hold) and then apply a generous amount of hairspray to keep everything in place!