© Getty Images
Hairstyles for Men: Milano Moda Uomo 2016
Milan's fashion event Milano Moda Uomo provides a look ahead at upcoming trends in men's fashion. An essential part of the shows: trends for men's hair! Short or long, relaxed or accurate – the hairstyles from Italy's fashion metropolis are absolutely trendsetting. We show you where the journey goes
What are men wearing in the coming year? The men's fashion days in Milan provide an answer as the biggest fashion labels present their collections for the 2017 summer season. Dolce & Gabbana for example, a designer duo introducing musical looks: their sports jackets, sweaters and shorts are printed with clefs and jazz instruments. Fashion designer Miuccia Prada strikes a different note. She sees the man of tomorrow in high-tech nylon sportswear and trekking sandals. And great things are coming in terms of accessories. Such as the XXL backpacks from Ferragamo. Think big! Also for hair?
New Haircuts for Men: Mid-Length!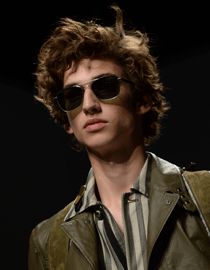 In addition to fashion, the focus in Milan is on the hairstyles. What is trendy? Half of Milan (at least among male models) is presenting mid-length hair that looks as though the cut has grown out. But watch out, the emphasis is on 'as though'. So don't say 'Arrivederci' to your hairdresser! Regular haircuts are essential with this style. For an especially casual look, also ask for a layered cut. The sides are thinned as well so the grown-out look stays modern. By the way, you can determine the final length of your mid-length haircut yourself. At least to the chin and no longer than the shoulders is the guide.
Our Top 5 Most Popular Hairstyles for Men
While the side parting is already a classic hairstyle, Milano Moda Uomo 2016 showed that it remains red hot. This season the top hair is combed neatly to one side, which is why the new gentleman's look is also called a comb-over. The hip look is cool and minimalistic – and can also be styled exactly like that (not to mention quickly)
This short cut not only looks smart, it really is: short hair is practical per se (not taking much time for care and styling), but thanks to the longer section at the crown, it is quick and easy to style in many different ways. For example, knead some mousse into the style for the big hair look (see photo). Perfection is not a must and a few loose strands make the look even more casual
Moves like Jagger: mid-length hair is the new superstar among men's hairstyles. Highly layered cuts have a rocking appeal. Accordingly the hairstyle can be wild, loose and untamed. The modern man also sports a compact fringe, which can be extra long, perfecting the rock star hair image. Add movement with a bit of styling wax and let the show begin!
The mid-length trend can also be simple! But with no loss of coolness. Shoulder length, straight hair is worn open and uncomplicated with a centre parting. For a special effect, the front strands framing the face are severely styled back behind the ears with hair wax. Finally a healthy dose of hairspray is applied so the look retains its clean chic. Simply good!
The wet look puts you in pool position: hair that looks fresh out of the water is totally in. A dab of gel brings refreshing variety to the summer of men's hairstyles. And then: freestyle! Decide if you want a classy look – combing the gelled hair straight back – or whether the surfer style works for you. With the wet, wild strands, it makes you look like you just came from the beach
Hairstyles for Men: Emporio Armani
---
While the side parting is already a classic hairstyle, Milano Moda Uomo 2016 showed that it remains red hot. This season the top hair is combed neatly to one side, which is why the new gentleman's look is also called a comb-over. The hip look is cool and minimalistic – and can also be styled exactly like that (not to mention quickly)