© Schwarzkopf
Hairstyles for Male Hipsters
Hipsters adopt a lifestyle all of their own. Their keen sense of style anticipates and in part expresses coming changes in the ways people live and dress. As it has been human practice through the ages, hairstyles are an important part of these changing expressions of self. Right now, hipsters prefer creative but casual hairstyles and fashions. We show how modern male hipsters style their hair, realizing that 'modern' means nothing to hipsters
Part of the hippie culture of the 1960s and 1970s tenaciously survived in the hearts and minds of people everywhere. The hipster's nonchalance about trends and societal standards never really lost its appeal. While the powers to be rant and rave about the lifestyle, in the corner of their minds is a secret place where – despite the best of their efforts - freedom from standards and conventions and the love of freedom and flower power will not budge. And so it is that at the sight of a hipster even the stiffest proponents of conformity will loosen their ties.
Hipsters often see themselves as proponents of a relaxed and altogether more humane lifestyle. Outward expressions of their world view are the decidedly individualistic styles of dress and hair, which are meant to show the irrelevance of putting on appearances. Naturally, such a free-wheeling style does not escape mainstream attention. This is where the nonchalance of hipsters shows its merits.
Hipsters...
...are mostly spotted in metropolitan eras where art and unconcerned living have carved out a niche.
...love all forms of irony and sarcasm.
...deeply value the arts and culture.
...are unconcerned about trends but may set trends.
...wear vintage clothing both for environmental reasons and because they love it.
...may decorate their bodies with tattoos; the hipster triangle is their favourite tattoo.
...are often seen wearing nerdy glasses and jute bags.
...often wear beards of any creative style.
Pioneering Hipster Hairstyles
Hipsters often find themselves in the role of trend setters for fashions and hairstyles. Many hipsters wear unisex haircuts and adapt their hairstyles with much creativity. In line with hipster philosophies are casual, often tousled hairstyles. Hipsters are unconcerned about societal standards, styles or trends.
Hipster Hairstyles – Wet-Styled Semi-Updo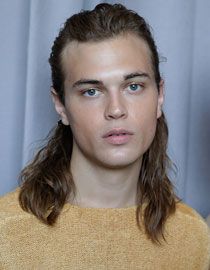 Men wearing long hair no longer turn heads. Either way, this would not affect the styling decisions of true hipsters (21st century hippies).
This semi-updo is styled to look wet. Guys with long hair may like to try this hairstyle either to turn hipster or try out being a hipster for a day.
Left: Long semi-updos are popular among hipsters
Hipster Hairstyles - The New Crop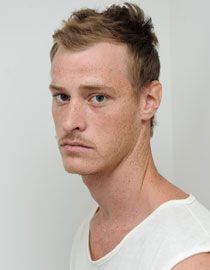 The New Crop is new because the crop is a tad longer on top than the original version of this hairstyle. Of course, this hipster does not miss his opportunity to assert his sense of individuality. There is nothing spiffy about this 'new crop' hairstyle.
Left: In this military hairstyle, the top hair is just a tad longer than the cropped side hair.  
Hipster Styles - Side Cut and Full Beard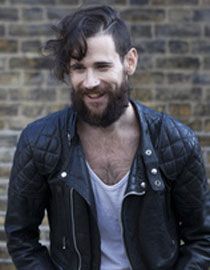 Hipsters wear the now trendy side cut for a while now. The front hair is casually flipped to one side. In contrast, the full beard seems to pay homage to times long gone and reminiscent of living in natural settings.
Left: Hipster wearing a side cut with the front hair flipped across the forehead