© Getty Images
Gel Hairstyles
Brilliant lustre for your hair! Shining styling ideas come to the foreground with the new wet look: From super slick to messy and tousled – we present trendy gel hairstyles sure to turn heads. Get the hair highlights: With our tips and the right products, brilliant success is guaranteed

Gel in your hair? Wonderful! Things are going smoothly for trendsetters: The wet look is back with brilliant styling performance. Short cut or flowing mane – this trend gets everything wet. Of course the hair is not actually wet, it only appears to be. Gel is the secret. This styling product not only shapes and holds, it also gives the hair the desired gloss. The styling potential: Expressive hairstyles from cool and edgy to elegant and sophisticated. But the gleaming styles have something in common: They work with hair of any length.

A blaze of glory for all: We reveal how the wet look is styled today – and recommend the right products as a bonus!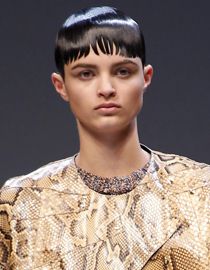 While long hair mostly appears wet only at the hairline with the gel trend, the slick styling goes all the way to the tips with short cuts.
Hairstyle hint: You have the shimmer. This means products with extra shine effect are ideal.
How to get the slick look:
1. Smooth down the hair with a hazelnut-sized amount of sleek gel.
2. Repeat the process until all the hair is smoothed against the head.
3. Use a fine-toothed comb to create the final, even style.


Hint: Defined ends on the forehead give the sleek style a hip finish.
Gel Hairstyles: Smooth Waves
The perfect wave: With long hair, style the fringe in a sweeping wave. Reminiscent of the hair look from the golden twenties. Today's wave is quick to do. A gel with strong hold is what you need, the rest just takes practice.

Swing it like this:

1. Brush the hair smooth and form a side parting
2. Tie it into a ponytail at the back of the neck and secure everything with hairspray
3. Distribute some hair gel on your hands and spread it over the hairline and lengths – making the entire mane shine
4. Form the fringe into a large wave over the forehead, working some more gel into the hair if needed. Secure with a bobby pin and allow to dry slightly
5. Spray again with hairspray and remove the styling aid (pin) – finished!
Gel Hairstyles: Like Wash & Go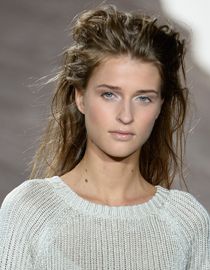 Not all gel hairstyles are slick: The wet look also works really well in the undone style! The casual look sets itself apart with structured volume. A gel wax that defines and holds at the same time is best for whipping the hair into shape.
How it's done: First tease the hair a bit on the crown and then knead the styling product into the entire mane until you have the desired effect.

Hint: Gel wax at the hairline gives the style additional volume and perfects the wet look.