© Getty Images
Scrunchies and Ponytails Go Together
For a long time now, ponytails and scrunchies go together like horse and carriage (or "like love and marriage" in the old Frank Sinatra song). Of course, details can make the old scrunchy a fashion statement. You may find a few scrunchy treasures in your or your mother's arsenal of hair accessories
Stylish scrunchies can bring flair even to hum-drum ponytails or updos. Wide, twisted or folded scrunchies may just be the eye-catching detail your ponytail or semi-updo needs. Since the scrunchy has been around for a long time, you will have no trouble finding your trademark scrunchy. Wide scrunchies are the current favourites.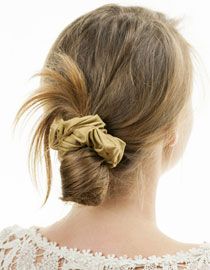 Scrunchies have been around for a long time. However, women use different scrunchy styles to adorn ponytails and updos from traditional to wispy and modern. Right now, fashion designers are partial to the wide colourful 1990s scrunchy versions with crunched up fabric wrap-around and woven patterns. The practical scrunchy offers plenty of opportunity to show your style and creativity. The colours, patterns, ribbons, and materials like velvet, leather, and silk cannot fail to bring out the artist in you. 1980s and 1990s scrunchy fashions may provide additional inspiration. Let your creativity run wild and dig deep into your stash of materials, which are just begging to turn into scrunchies.
The Best Hairstyles to Show off your Scrunchies
On catwalks, especially the models for fashion designer Jean-Paul Gaultier wear the wide retro-style scrunchies again. The models gather their ponytails a little higher than the classic ponytails and prefer the austere style with taut backward styled hair. By contrast, the hair ends surprise with girlish curls (see the large top photo) for an elegant yet cool ponytail style.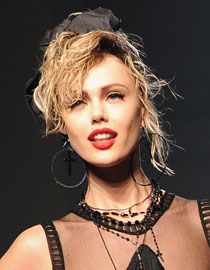 This wavy high ponytail version is created in today's undone style. The most important accessory is the 1980s-style wide scrunchy for a hint of nostalgia.
Left: During the Paris Fashion Week, the models for fashion designer Jean-Paul Gaultier showcased ponytail hairstyles along with his fashion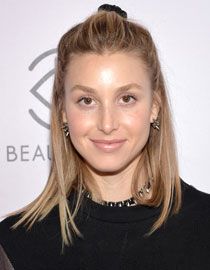 Whitney Port gathered part of her straight hair in a retro-style scrunchy. This gives her hair an eye-catching style element and allows her to connect her hair and fashion styles.
Left: Whitney Port wears a semi-updo with part of her straight hair gathered in a retro-style scrunchy