© Getty Images
Heidi Klum Wearing Hairstyles with Fringes
Once again, Heidi Klum shows her preference for wearing hairstyles with fringes. We show how Heidi Klum wears hairstyles with fringes now and how she created this hairstyle at an earlier time (in 2003 and 2008). Helpful styling instructions for hairstyles with fringes are included
Heidi Klum rivals any chameleon with her ability to change her hairstyle along with her looks. In recent years, we got used to seeing Heidi Klum with wavy updos, big hair for the evening and several other hairstyles including elaborate braided styles. Currently, she fancies distinctive hairstyles with fringes.
Close-Up of Heidi Klum's Hairstyle with Fringes
Heidi Klum's fringes (bangs) extend all the way to her eyelashes. They are cut longer on both sides to mesh with the side hair in a smooth soft arc. Blow-drying the fringes so that they curve toward her forehead makes the style all the more feminine and soft. The rest of her hair is layer-cut with only few layers. Tone-in-tone streaks add highlights and visual texture to her hair.

Heidi Klum's household includes four children. Small wonder, she often gathers her hair into ponytails of various styles for practical reasons and because they look quite appealing with fringes. Whether the ponytail is sleek and elegant, casually styled, gathered high on the head or low at the neckline or swept to the side, fringes will fit the style.
Fringes tend to add a sassy element to any hairstyle. On the practical side, fringes can also be styled to hide wrinkles.
As shown below, Heidi Klum rediscovers hairstyles with fringes every few years.
Heidi Klum Wearing Fringes – Way Back When and Now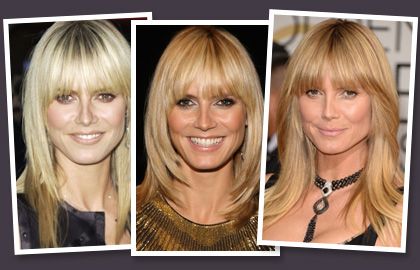 Heidi Klum always looked good wearing fringes. Still, with time her hairstyles changed ever so slightly:

In 2003, she styled her hair straight with almost imperceptible layering for a modern look, which invoked memories of the heydays of rock and roll.
In 2008, Heidi Klum liked to wear long fringes in combination with layered hair, which she turned under. This style gave her a look of soft, timeless femininity.
In 2014, Heidi Klum combines her long fringes with outward turned hair of medium length. This retro style reminds of the 1970s.