© Getty Images
Growing out Fringes
Do you find the transition from fringes vexing? Unjustly so! This is because there is hardly a hair portion, which can be styled in as many ways as out-growing fringes. Whether gentle, natural or rock-style – you can create various looks with little tricks and a few manoeuvres. Expert in fringes Heidi Klum shows how it is done
With the exception of fringes, our hair never grows fast enough for us. No sooner did you cut the fringes than they already tickle your eyes. Cutting fringes is easy, but you are sick of doing it. Do you find the alternative of letting the fringes grow out unsettling? Never mind! You can use the transition phase to make the best out of the out-growing fringes by following Heidi Klum's example. We learnt a few tricks from the model. You will be surprised how many styling opportunities open up when you say good-bye to your fringes.
Growing out Fringes: Accessories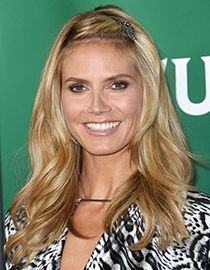 1st Phase
Once the fringes have slowly grown past the eyelashes, it is time to tame them. This can be done with barrettes. Using rhinestone or flower-adorned barrettes you can set accents in your hair depending on your style or mood. Use slim bobby pins to tuck your fringes back in a less noticeable way. You can never have enough bobby pins. Bobby pins in the colour of your hair will be barely visible. Also popular in the summer of 2015 are fillets. If you wear fillets you may also want to wear one or the other form of updo such as a casual chignon or ponytail. This keeps the ends of the fringes hidden underneath the fillet.

Tip: Individual small strands of hair may playfully fall into the forehead for casual or gentle styles. To create clean or festive hairstyles it is best to secure shorter fringes using hair- or gel spray.
Growing out Fringes: The Side Parting
2nd Phase
Can you still look through your fringes? As soon as your fringes obstruct your view you may style them to the side. To accomplish this create a side parting in your damp hair and blow-dry your fringes into the desired direction using a brush. Start to blow-dry from different spots to vary the style. Do you prefer casual and natural styles? Nothing could be easier! Simply push the hair to one side or use some wax to create a cool stringy look. Simply blow-dry your hair with a round brush before you create waves using a flat iron. You can create a rock-style appearance by braiding the fringes close to the scalp and sweeping the remaining hair over the shoulder. This creates a cool side-cut effect.

Tip: Applying styling mousse makes styling easier and provides your hairstyle with natural hold.
Growing out Fringes: The Middle Parting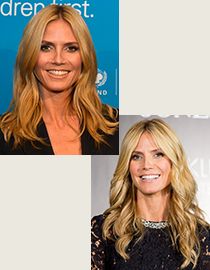 3rd Phase
End run: Weeks ago, there were still fringes. Now, the former fringes have grown into a real layer. At this time, the front hair reaches to the tip of the nose. Middle partings are perfect for this length of hair. The fringes merge with the side hair in a classy fashion. We recommend visiting your hairdresser to adjust the proportions: Allow the master to do his/her thing. After some trimming and layering the hair will look softer and well-cared for. The fringes are gone.

Tip: The new layering will look particularly attractive if you create some volume and sweep in your hair. You can do this by using volumising powder for example. This is a quick solution and the effect is terrific.