© Getty Images
Elvis Presley's Hairstyle
On the 8th of January 2015, rock 'n' roll legend Elvis Presley would have been 80 years old. To this day, his music and unique style are cherished. Alive is also the memory of his quiff. We show you how to style the Elvis quiff
Elvis' signature song 'Love Me Tender' was released in 1956. Still, this and other Elvis songs never lost their appeal. Even if you are too young to remember his top hit ('Hound Dog') or hits like 'Heartbreak Hotel', 'Jailhouse Rock' or 'It's Now or Never', chances are that you have heard these songs. You may have even uploaded some of them. Few pop artists reached the level of his popularity. We are also intrigued by his hairstyle and quiff.
In Elvis' times, the quiff was as remarkable as it was controversial. Yet, hairstyles with quiff became trendy among the young in the 1950s. Guys with quiff appeal to women, which is reason enough. The styles of rock singers became the styles of the time. Elvis Presley was not the only famous singer wearing longer hair and a quiff. Pop musicians like Johnny Cash and James Dean also liked to wear a quiff with combed back side hair.
Styling the Elvis Quiff
For the typical quiff the hair in the neck and around the ear is cut slightly shorter than the rest of the hair using a comb and scissors. The Elvis hairstyle appeals to a large part because of its harmonious transitions. Razor cuts would be too extreme and take away the smooth appearance. The covering hair should be no longer than 2.3'' to keep the quiff stable.

Step by Step Styling Instructions for the Elvis Quiff: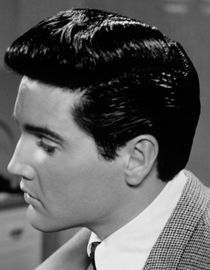 1. Shampoo your hair; then brush or comb your hair back while partially blow-drying it.
2. Tease the hair above the forehead to create extra volume near the roots. Gently comb the teased hair back.
3. Cover your fingers with a generous amount of hair gel and use your fingers to distribute the gel front to back to the hair on top of your head.
4. Use another generous portion of hair gel to sleek back the side hair.
5. Shape the quiff and blow-dry until your hair is completely dry.
6. Use hairspray for extra hold.