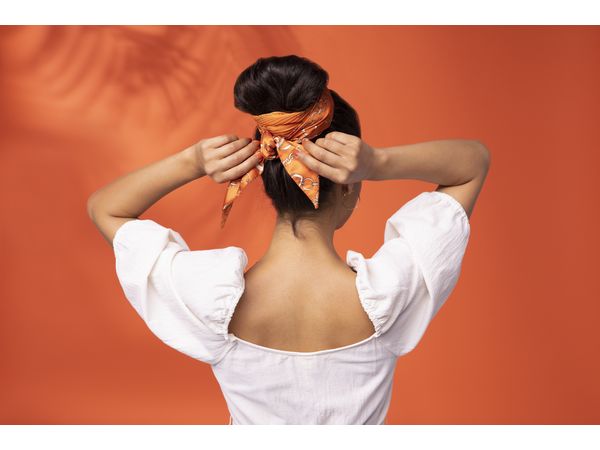 © Getty Images
Who are you? These styles are trendy this festival summer
Which one is your go to style for the next festival? The feminine hippie look with girly flowers in your hair? The boho chic style with pale pink hair? Or will you become a rock rebel with loud hair colors? Find the perfect festival hairstyles with us.
The festival summer is here. And you also want to find the perfect festival look - one that is just as creative and unique as you are. The possibilities are endless and so are your ideas. With each new color and look you reinvent yourself and show off a new side. We love the following styles for the festival summer. Let us inspire you.
Pastels, please: Show off your gentle side with pale apricot, pink, and blue
You like it delicate, but also want to set trends with the latest hair colors? Soft pastel shades such as pale pink and apricot accentuate the hippy girl look.
You also want festival hair accessories with it? With a couple of flowers in your hair or even a flower crown you can easily turn into a Flower Crown Sweety.
For the feminine yet playful boho style, put a braid with feathers in your open hair.

Sweet, sweeter, Space Buns: the cool half up and half down festival hairstyle
Twirl your upper hair into two messy buns. One on each side and ready are your Space Buns. It cannot get any easier than that and you are festival-ready in no time. For a romantic style, let a few hair streaks hang out loosely in the front. You want to make your look a bit more niftier? With glitter spray and rinse-off hair colors you can set new trends. Your perfect companion is the got2b Color Crafts Spray. No matter if in violet, pink, silver, blue, or gold, with these colors you will become an eye-catcher at each festival.
Twin Braids: the stylish festival hairstyle
It is hot and you want to keep your hair off your neck as a measure to cool down? Then double braids are the perfect look for you.
The choice is yours if you would rather go for Double French Braids or Double Dutch Braids.
For the extra eye-catcher effect you can braid accessories into your hair or color a few single hair streaks.
Let's rock: with these loud colors it will mean spotlight on for you
A loud appearance is exactly your thing? With intensive red, violet or aquamarine you can achieve the color blast.
Your hairstyle is perfectly "unperfected" and a messy bun or half updos are your go-tos?
DocMartens, ripped Skinny Jeans, a band shirt, and leather jacket round off the edgy look.