© Getty Images
Halloween Hairstyles
Not everybody likes to dress up as witch, vampire or bat for Halloween. We have stylish alternatives for you if you like to celebrate the Night of the Dead showing a different side of yourself.  The models and stars in our gallery show you dark and spooky getups for the ghostly festivities on October 31st. Our styling tips help you show your dark side

Creativity is the motto for proper Halloween getups. There are no limits to express your ideas of the dark and otherworldly. Nobody can complain about a lack of inspiration for Halloween looks. There is no reason not to give free reign to even the most extravagant or even ghoulish ideas. Proper Halloween looks are dark, ghoulish, and quite a bit scary as well. Nothing but the outright scary will do. There is room for playful femininity where the dark spirits live. Our line-up of stars and models leave no doubt about this part of the Halloween fun.

Halloween Hairstyles: Tips & Tricks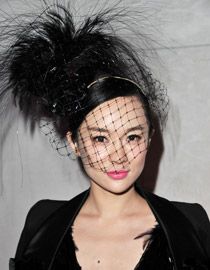 Halloween is the time when you can fall back on almost forgotten or unusual styling tools and tricks. 

1. Nets: Nets are rarely used in today's fashion. This however makes nets all the more suitable for the ghost hours of Halloween. The eye-catching nets cover the hair or the face or both (see the photo on the left and in our gallery).

2. Volume: Extreme hair volume looks extravagant and is therefore exactly the right style for Halloween. Whether you wear curls, an over-sized quiff or updo or hair, which is teased to the hilt, fright-night is the time for extremes.

3. Make-up: Make-up can dramatically transform your looks using just a few artistically placed accents. Eyes framed in a wide circle with very dark eye make-up set the right tone. Tip: Extend the eyelid liner well beyond the lid and upward to create cat eyes. You may like to deepen the look by applying black, dark brown, grey or red lid shadow up to the eyebrows. Ghostly white complexions work well on Halloween. Plenty of light make-up or white stage make-up can help to create this effect. Dark red lips complete the ghostly image while sweet shades of rosé or pink soften the look.

Semi-updos with dramatically piled up big hair help to complete haunting Halloween apparitions. In his video, Schwarzkopf hair expert Armin Morbach explains how to create such a haunting Halloween hairstyle in just a few steps.

Video: How to Create a Rockabilly Hairstyle
Gallery: Halloween Hairstyles
In a strange twist, the hair net adds to the haunting look of this Junya Watanabe model.

Directions: Gather your hair into a ponytail. Then hang your head upside down to put on a hair net. Allow your hair to fall in any direction it wants to go underneath the hair net. The look also works with medium long hair

"Trick or Treat!" is the greeting you hear when opening your door to ghosts and goblins. These curls and the Alice band with flowers may look sweet on first glance but the make-up and expression add a decidedly dark and haunting quality to the style of this model for Marc Jacobs.

Directions: Blow-dry your hair until it is almost dry. Work curling mousse through your hair before rolling it onto thin curlers starting at about ear level. You may also use a thin curling iron. Allow your hair to cool and completely dry. Then apply hairspray before taking out the curlers or the curling iron. Finally, brush your hair into shape
This hairstyle borrows its Halloween character mostly from the make-up and outfit. The hairstyle is also very effective with natural hair colours. The whitish complexion and the dark red of the lips and eyes turn this look ghostly. Marc Jacobs created this look for the Louis Vuitton fashion house.

Directions: Comb the hair until it is very smooth. Then use your hands to cover it with hair wax. From a side parting pull the hair from the top and front of your head forward and sideways and temporarily fix the hair on the side. Then form inverted roles on both sides, which go all the way around to the nape of the neck. You may secure these rolls with hidden hair pins as needed. Secure the role in the nape of your neck and apply hairspray for extra hold. You can now remove the hair pins, which are no longer needed

We found this Fendi model with the eye-catching hairstyle and make-up backstage. The hair is teased, piled up high and covered with a net.

Directions: The hair is heavily teased while hairspray is applied intermittently to build up even more volume. Smoothen the top hair and cover it with a net. The creative eye make-up extends beyond the eyebrows and delivers Halloween drama

Black make-up gives the eyes their hollow appearance, and the hair is coloured sticky pink. This model demonstrates a look created by the Japanese designer Junya Watanabe.

Directions: Distribute hair wax, gel or hairspray in your hair and cover it with colouring powder. Alternatively, you may prefer using gel to style a pink wig to wear on Halloween

Simple but very dramatic is this blood-red spiked Alice band in the tousled hair, the wide dark shadows around the eyes, and the tousled big updo. We liked this Halloween idea by the hairstylist for Fendi and put the idea in our notebook.

Directions: Tease the top hair in the back of your head before partitioning off the front and top part of your hair. Now gather the remaining hair into a somewhat tousled high ponytail. Fold the high ponytail under and secure the end of the ponytail with hidden bobby pins. Keep the entire style casual, even a little tousled. Now cover the base of the ponytail with the front and top hair and hold the front hair with an Alice band. Dependent on how long your hair is, you may like to use some bobby pins to secure the top hair over the hair loop
Halloween Hairstyle: Eerie Style with Net
---
In a strange twist, the hair net adds to the haunting look of this Junya Watanabe model.

Directions: Gather your hair into a ponytail. Then hang your head upside down to put on a hair net. Allow your hair to fall in any direction it wants to go underneath the hair net. The look also works with medium long hair