© Shutterstock / Izabela Magier
Super easy: How to curl your hair without heat
Whether it's big waves, glamorous curls, or beach waves: when you create curls, do you always reach straight for your straightening iron or curling iron? We know a few tricks that enable you to style your curls without heat. This way it's gentler on your hair and the results are just as beautiful. Here's how to do it - it's super easy!
Styling curls without heat? No problem, it's really simple to do - and your hair will thank you for it. You just need a few tools and preferably at least shoulder-length hair. We'll reveal three ways to turn your straight hair into wild curls or gentle waves.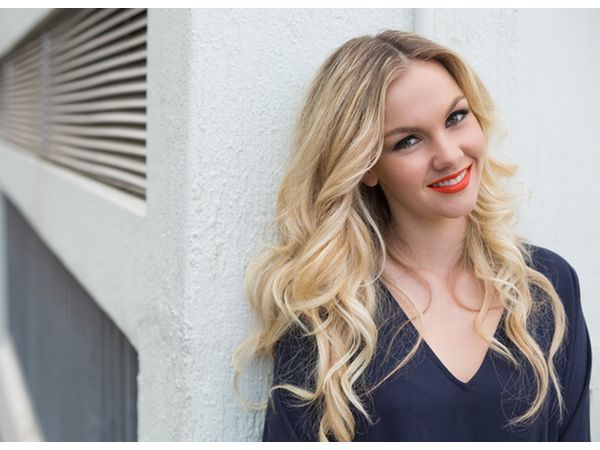 Styling curls with a headband
An effective way to style curls without heat is by using a headband. All you need is a hairbrush, a headband, water and some styling mousse if necessary. This is how to style it:
Dampen your hair slightly, for example with a spray bottle filled with water.
If you like, you can add some curl styling mousse to your lengths to enhance the effect.
Brush your hair thoroughly and place the headband on your head so that it sits just above your ears.
Take a section and wrap it around the headband from above.
Now pick up the next section and wrap it around the headband too. Continue with each section and soon all your hair will be wrapped around the headband.
Finally, fix everything with a little hairspray
Let your hair dry - preferably overnight - and then remove the headband.
Run your fingers through your hair to loosen the curls a little. Add a little more oil to the tips as needed to give your curls a healthy shine.
Et voilà, a way to easily style curls without heat
Styling curls with a straw
Sure, straws are meant for drinking, but who says they can't be used for styling curls too? For this you need straws, of course, as well as scissors to cut the straws out when your curls are done.
Wash your hair and then divide the damp hair into sections. The thicker the sections, the bigger the curls. Thin sections will leave you with ringlets.
Now take a straw and wrap a section around it. Once the section is fully wrapped around the straw, knot the two ends of the straw together to fix the twirled section in place.
Repeat this process until all sections are wrapped around the straws.
Let the hair dry overnight for best results.
The next morning, remove all the straws, untangle the curls with your fingers, massage some curl balm into your locks and fix with hair spray - ready!
Styling curls with a hair tie
This method is also very easy if you want to style curls without heat. All you need are a few hair ties. Depending on the size you want your curls to be, you can use either very small or very large hair ties, preferably ones that aren't joined with a metal piece to prevent the hair from breaking or being damaged.
Moisten the hair with water beforehand, squirt some curl mousse into your hands and distribute it evenly throughout your hair.
Now divide your hair into sections that are about the same size - the thinner the section, the tighter the curls.
Pick up a section and twirl it all the way to the tips so that it practically starts twirling on itself.
Fix this twirl with a hair tie.
Do the same with the remaining sections.
Let your hair dry like this, preferably overnight. Fix it with hairspray first.
Open the twirls carefully after they've dried and loosen the waves with your fingers
Warm up a small amount of hair wax in the palms of your hands and massage it into your hair. Done!