© Getty Images
The Style of Kate Middleton
The date is set! On the 29th of April Kate Middleton (29) is going to marry the heir to the British throne Prince William of Wales (28) in a ceremony in Westminster Abbey. Rumour has it that Kate Middleton now feels the pressure and is in need of advice from all kinds of advisors to prepare her for the big day. In contrast to these rumours, Kate Middleton was even more radiant, relaxed and happy last week than her fiancée. Her hair style shows her as the kind of woman who weathers even the stormiest times with great style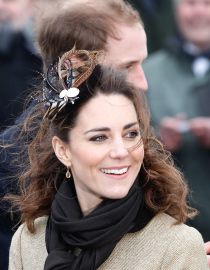 These are exciting times for the young art historian Kate Middleton. A few years ago, she fell in love with a Prince who will one day be crowned King of England while the entire world watches. Journalists keep a tight watch on the young couple. Clearly, commoner Kate Middleton has her work cut out for her. In her new role, she must continue the legacy of the House of Windsor. It is refreshing to see her step into her public role with so much ease. Kate Middleton is a fashion-conscious young professional woman. She has for example worked as an assistant to the purchasing agent for a fashion house and last as a photographer and in other capacities in the business of her parents. Now she is looking forward to her wedding. According to the newspapers, she will celebrate the great event not only with the royal family but also with letter carriers and greengrocers.
Kate Middleton's Hair Style

Kate Middleton's hair style is usually more on the classic side with just a little modern and clever twist. When she attended the christening of a lifeboat (her first official duty together with her future husband) on the Welsh Isle of Anglesey Kate Middleton was savvy enough not to wear her hair completely open. Instead, she loosely gathered some of her gorgeous brown curls in the back of her head. This and the filigree headdress by the hat designer Philip Treacy kept her hair out of her face even with the wind blowing. She hardly looked made up but rather clever. She is our choice for this week's style for stars.