© Getty Images
Beautiful Hairstyles at the 2013 Berlinale
We like to call the Berlinale 'Our Festival of Movies and Hairstyles'. The film festival in Berlin took place for the 63rd time this year. Like always, our eyes had a field day. We particularly liked the romantic and naturally looking hairstyles. We kept our eyes peeled on the stars on the red carpet and at photo sessions. We hope you like the selection of our favourite hairstyles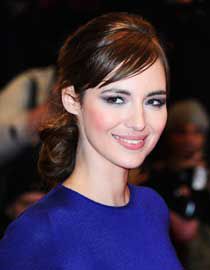 Heads turned wherever the beautiful French actress Louise Bourgoin appeared. At the Berlinale, she dazzled with her adorable outfits and enchanting hairstyles. She captivated audiences everywhere! At a press conference, she appeared in style with country girl braids and flower dress to introduce her latest movie 'The Nun'. Her sense of style serves her well. At the Berlinale gala events, she first presented herself with undone ponytail and tight cobalt-blue top with long black skirt just to surprise wearing an Asian-style gown and chignon at a later occasion.

Hairstyles of Stars at the 2013 Berlinale
The Berlin film festival gave us a chance to see long familiar and new performers from all corners of the world. Juliette Binoche showed up with peppy short hair and Rooney Mara appeared wearing a sleek chignon. As far as attention to hairstyle is concerned, Veerle Baetens trumped all with her red hair and short fringes (see our gallery photo). Many celebrities decided to wear their hair in naturally bouncing, undone waves. We show our favourite hairstyles of the stars in our gallery. In his video, Armin Morbach shows how you can style the now popular natural curls or waves.

Video: How to Create Naturally Looking Curls
Gallery: Hairstyles of Stars at the 2013 Berlinale
Veerle Baetens from Belgium ('The Broken Circle Breakdown') makes red hair popular with her short bob and extremely short fringes.

Top styling aid for this look: Hair wax helps to maintain the shape of this hairstyle

American actress Rooney Mara ('Side Effects') changed from her usual hairstyle with accurately cut fringes to a sleek low chignon without fringes. Despite the austere hairstyle, the actress looks feminine.

Top styling aid for this look: Hair gel provides extra lustre and prevents fly-away hair

At a photo session, seasoned British actress Anna Friel introduced the title of her latest movie 'The Look of Love'. We promptly fell in love with this look! Her hair caresses her shoulders in naturally looking waves.

Top styling aid for this look: Extra-gloss hairspray adds still more allure to this look

Dutch actress and photo model Sylvia Hoeks ('The Best Offer') also opted for a naturally looking hairstyle. Her bouncy waves and curls were casually styled.

Top styling aid for this look: Volumising powder for volume and bounce

German actress Eva Habermann looks carefree with her casual short hair. The outward flipped hair ends give the look a sassy note.

Top styling aid for this look: Hair wax to define the hair ends

Hairstyles at the 2013 Berlinale: Short Bob with Very Short Fringes
---
Veerle Baetens from Belgium ('The Broken Circle Breakdown') makes red hair popular with her short bob and extremely short fringes.

Top styling aid for this look: Hair wax helps to maintain the shape of this hairstyle