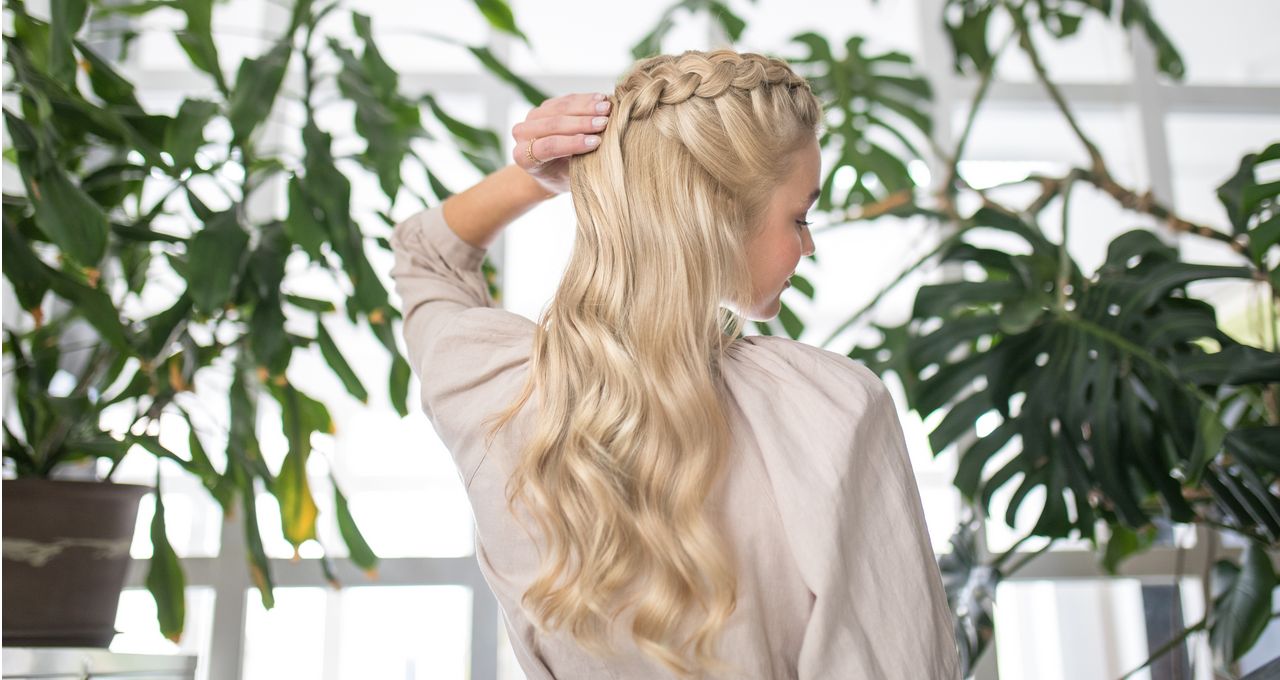 © Schwarzkopf
These Are the Top Five Most Beautiful Braids
Braided looks are easy to style, yet always look a little bit fancy. They're perfect for when you're in a rush – but still want to actually do something with your hair. We reveal our five favorite braids, and how to style them
It used to be the highlight of a salon visit: After washing, cutting and drying, the hairdresser styled the tresses of their client into a beautiful braid. But stylish braids can easily and quickly be created at home, too. Let us show you how you can achieve the most beautiful braids in front of your own bathroom mirror.

Why are braids so hot right now?
Braided styles aren't just for special occasions anymore: More and more of us are incorporating them into our everyday looks. Why? A perfectly woven braid is elegant, highlights facial features, and draws compliments. Real talk: Who hasn't coveted someone else's totally on-point braids?
 
There are a number of ways to style braids. Some are woven into the hair, while others lay on top of the head, giving a three-dimensional look. Here are our picks of the five most gorgeous braids. We define each type and reveal what kind of outfits the different braids will suit.
 
1. French braid
Some women have been wearing French braids since childhood. They're onto something! The look is practical, super pretty and suits all occasions. What's special about it: the French braid begins high up on the head, and new strands are continuously worked into the braid all the way down.
 
How to achieve the look: First, comb through hair and brush it back. Take a section of hair from the top of your head and divide it into three parts. Braid two steps in the "normal" way, then begin to gather new strands from the sides of the head and braid these in. You'll always be working with three sections. When these sections reach the side of the head, you'll gather more hair into them. This way, all your hair will be incorporated into the braid, section by section. For a classic look, braid lengths right to the end and secure with a thin transparent hair tie. The perfect fashion match: An off-the-shoulder top.
 
2. Dutch braids
Dutch braids are cool and sexy. This pigtail style sees two braids created along the head, in a technique essentially the same as French braiding. First comb through the hair, then brush back and create a complete center parting – from forehead to neck. Tie one side together with a hair tie so that it doesn't get in the way. Separate the other side into three sections. Begin again by braiding two steps of your braid "normally." Continue on, now and again carefully gathering new hair from the sides to incorporate into the braid. As per the French braid, this way all the hair will be incorporated into the braid, section by section. Create a normal braid in the lengths of the hair and secure with a thin, transparent hair tie. Repeat on the other side of your head. Result: Two beautiful, head-hugging Dutch braids. The perfect fashion choice providing contrast to this sweet girly style? A cool street-casual look!
3. Herringbone braid
No braided style is as playful and girly as a herringbone braid. This look needs some dexterity as you're weaving with just two sections of hair, instead of three.

Here's how it works: First, make a side or middle part, depending on how the braid is to be worn later (i.e. down your back or over your shoulder). Divide the hair into two loose sections: Section (a) and section (b). Take a small strand from the outer side of section (a) and cross it over the entire section (a), joining it up to the inner side of section (b). Now take a small strand from the outer side of section (b), crossing it over the entire section (b) to join the inside of section (a). Tip: Make sure that you tighten the hair again and again when braiding. Repeat the process until all hair is braided in. The perfect fashion match: a stylish crop top.
 
4. Ponytail
It's the absolute classic among updos: The ponytail. No longer just a practical style when you're working out, the ponytail has become a fashion statement. Whether loosely tied or tightly styled up, it fits every occasion. Want to give it a trendy edge? Try a high pony or a low pony.
High ponytail
Strong, sexy, elegant: The high ponytail always looks super feminine and confident. It's got to be sleek, smooth and worn close to the head. Finish with styling cream to ensure you slick down any fly-aways. Gather hair into a high ponytail and affix with a thin hair tie. Tip: Try tipping your head upside down when creating your pony. Perfect fashion match: A black turtleneck sweater. Wow!


Low ponytail
One of the trend hairstyles of 2018 – the low ponytail. The trick to getting it right: The look appears chill and relaxed. If you want to braid it, don't use too many styling products, because this hairstyle shines with an undone finish. Less is more! The perfect fashion match: A shirt with a low neckline.
5. Waterfall braids
Half loose, half braided: That's what makes the waterfall braid. This braided style is also very flexible: You decide whether you want to wear hair smooth, wavy or curly. Another advantage is that this look works with shorter, medium-length and long hair.
 
Brush the hair first, then create a middle or side parting. Begin on one side: Take one section of hair near the temples and divide it into three strands. Braid these in the traditional way, but with a difference: The lower strand is "dropped" at regular intervals, so that it hangs from the braid. It is the same principle as the French braid: New strands are added to the braid again and again – except that in this case, one is dropped. Repeat with a similar-sized section of hair on the other side of your middle or side part. The two braids can be braided together (or simply tied or affixed with clips) at the end. This look is especially cute and playful on curly hair. The perfect fashion match: A girlish dress.
 
The right care for your braided style
As with all hairstyles, it'll only look great when hair is healthy. Stressed or dull hair can still be styled into an amazing braid, but it will never look as great as healthy hair. Here's how to care for your hair perfectly, for your best ever braid:

When washing
Use a fortifying shampoo. Thin, weak hair will result in a thin, weak braid. Braided looks thrive when thick, luscious hair is cleverly interwoven – so your hair should look as voluminous as possible.


Before blow-drying
Hair with some grip and texture to it is the easiest to braid. After washing, the hair surface is very smooth and can be harder to braid. Work a light mousse through the hair before blow-drying to give it some more texture. The advantage is threefold: Hair is easier to style, the braid remains in shape and your style will have much more hold.


To finish
For healthy shine, distribute some styling cream into the sections to be braided. This also prevents flyaways. Finally, set braids with a hair spray or hair lacquer. This way, your style will hold for hours – and even withstand long nights out.