© Jamie Grill
Finding the Hair Colour with Your Name on It
Are you imagining yourself blonde or are you rather partial to warm brown hair? You may even play with the idea of surprising everybody by bringing all colours of the rainbow to your hair. Before you reach for the colouring kit, you may like to weigh all your options and find out the most important facts about hair colour

There are those hair days when everything looks alright but still, where's the oomph? Now is the time for a magical transformation. A new hair colour can certainly do that miracle! Of course, your heart's desire should have something to do with your new hair colour but so should your complexion and your natural hair colour.

You may not feel like surprising family and friends alike but rather prefer approaching the new hair colour in baby steps. Some streaks may be well worth a try and a good way to find the right colour to improve on nature.

Semi-permanent hair colouring kits are a safe way to find your new hair colour as well. This is true especially if you don't like streaks or your hair is naturally light. The semi-permanent hair colour washes out quickly and you find out whether the colour did anything for your style and complexion.

The popular two-tone look is another terrific way to experiment with hair colour without colouring your entire head of hair right away. Only the ends of your hair change colour.

Have fun testing! Only after you have found the hair colour, which looks and feels right to you, should you reach for the permanent hair colour.

Read on if you would like some help finding the hair colour with your name on it.
What Shade of Blonde?
Blonde shades range from platinum to dark blonde. The lighter your complexion, the lighter your blonde hair should be. Beige blonde shades are particularly popular this year. This trendy hair colour looks particularly attractive in combination with slightly tanned skin and green eyes. Blue eyes and a light complexion go well with champagne blonde hair. Ash blonde and platinum blonde hair enhance tender rosy complexions with a bluish violet hue.

What Shade of Brown?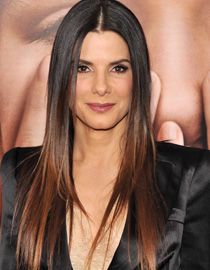 Chocolate brown hair looks good on almost every woman. The colour is a particularly good fit for confident, alluring women.

You can put the dip and dye method to good use if your hair is long and you want to make sure that it does not appear to dark. Simply dip and dye the lower half of your hair light brown the way Sandra Bullock does. Of course, you can also colour your hair lighter on top with darker ends. The colour transition should happen at about chin level for long hair. For medium long hair the colour should gradually change at about ear level.
Light complexions with yellowish or peach tinge look very attractive with warm brown shades of hair like golden brown, chestnut or light to medium brown. Use ash brown shades if your skin is light and has a cool bluish undertone.
What Shade of Red?
The lighter the skin, the livelier the shade of red should be. Light red shades like copper, golden red and strawberry blonde are ideal for light skin with yellowish or peach-coloured shimmer.
Hair colours with a touch of blue like Bordeaux or purple are the best red hair colour choices for women with rosy, slightly bluish-tinged skin.

Please note that red colour is taken up quite efficiently by hair. However, the red colour tends to fade quickly. Maintaining red shades of hair requires more care than maintaining other hair colours like blonde or brown.

If you can't decide whether to colour your hair red or brown you may like to try reddish brown shades like chestnut, golden brown or mahogany.
What Shade of Black?
Black hair tends to look stark and unnatural for most skin types. Black hair looks best for women with pale Snow-White complexion. Women who colour their hair black can add dark brown streaks to impart movement to their black hair. Otherwise, the black hair may look like a helmet.

What more colours are there? Pink, blue and others…
If you like to experiment with unusual hair colours you now have the choice of the most expressive display colours of exotic birds. Right now, the trend colours are pink, purple and blue. (Katy Perry tried them all!) You may also like to consider colouring your hair one of the various shades of grey like Kelly Osbourne.