© Alamy
Changing Your Hair Colour: How Far is Going Too Far?
Technically, black-haired women can turn light blonde and vice versa without any problem. However, should anybody recommend such drastic change? Here we tell you where you may want to draw the lines for your colour choices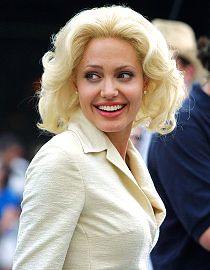 Hair colouring experts may like to get animated in discussions about colouring trends. However, all experts between Los Angeles and London agree on this one piece of advice: On a scale between one and ten, you should never change your hair colour by more than two shades based on your natural colour. We can't help but agree when critically studying the pictures of Angelina Jolie as a platinum blonde (for the movie 'Life or Something like It'). Of course, the stars still look good with their hair coloured in such a way. However, they do look much better with their hair close to their natural colour.
 
In your quest for a completely new image, you may reserve a few considerations for the voices of reason. Remember, permanent colour is in fact for the duration. It is too bad, when the choice is an unfortunate one.

A New Hair Colour: Checklist for Everyone with a Yen for Change
If you like to colour your hair darker you can try on the new colour and the different life style using a colour rinse or intensive tinting. In case you dislike the result, you can immediately apply a hair cure and wash your hair several times. The products will bind the pigments and considerably attenuate the tinting effect
Should you plan on going blond trying out blond wigs may be a good way to try on the new colour. Alternatively, you may admire your blond self in a digital image online (e.g. by visiting http://www.frisurenstyler.net)
A very short haircut allows quite a lot of freedom for experimentation. If the initial result disappoints there is no reason not to colour your hair differently right away. In a short pixie cut individual hairs are hardly older than half a year. Such young short hair can easily cope with repeated colour treatments and bleaching
Brown-haired women who like to go blonde should be aware of the image that goes along with the blonde hair colour. Innocent golden curls, a sexy beach blonde look or platinum blonde waves carry strong signals. However, there is no need to hesitate if a long line of suitors is part of your dreams and if you are a party person and almost always in a sunny mood, providing your hair has not been chemically treated for a permanent wave or straightening. Colouring chemically treated hair requires the expertise of a professional
Real blondes have no problem colouring their hair brown. They have the privilege of using soft mousse tints and intensive tints to try out how being brunette will change their lives. As a rule, you should allow at least one week and several shampoos between two tinting rinses at home
Brown-haired women who have bleached their hair blonde are a case for the hair care professional if they want to switch back to their natural hair colour. It is hard to predict how the new colour pigments will interact with chemically treated hair. Having a professional guide the colour change adds predictability to the result