© Medioimages / Photodisc
New Highlights: Blonde Streaks
They are permeating trendsetter hair again: Streaks! These subtle colour contrasts are so popular because they are not only attractive but also clever: The light accents help contour the face. Find out here how blonde streaks work best in your hair and what techniques are trendy
Hair as though kissed by the sun – but in winter: Blonde streaks make it possible, transforming them into the new fashion accessory. The discreet (but effective) colouring trend adds refreshing variety to the strong dip dye and ombré main season. We celebrate the comeback of the delicate colouring, allowing hair to glow with a new radiance. Summer feeling included year round! The best thing about it: With the purposeful application of streaks, your face can appear more beautiful, slim and attractive. We reveal the trick. But first the trends and techniques:
Blonde Streaks: Creating Highlights
From zero to blonde – a total hair type change is not your thing? If so, just add a few highlights. Lighter streaks in darker hair create a beautiful, more natural effect. The hair appears fuller, more glossy and healthy. You can vary the number of streaks. Would you prefer a lighter look? Then add more streaks. Be sure to avoid colouring wide streaks that only include the top hair. Colour thin, delicate sections of hair instead. This makes the look far more natural.
By the way, lowlights are the opposite of highlights. Here dark streaks are coloured in light hair. The effect is the same.
Blonde Streaks: Splashlights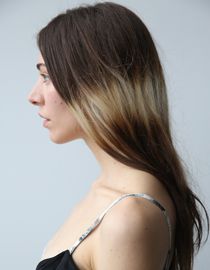 Splashlights are a somewhat more extreme version of the discreet highlight streaks. Here 'colour spots' are added to boost the reflection of light on the hair – almost as though you wanted to create a ray of light.

The feature of the effective colour trend: Highlights that run horizontally through the hair. The width of the striking colour contrast is variable – from a block to a fine line – giving free rein to creativity. Spot on!
This colouring technique works similar to the ombré look.
The only difference:

Instead of dual colours, the colour block makes the hair appear tripartite and needs to exhibit a flowing transition upwards and downwards.
Blonde Streaks: Hair Contouring (Balayage)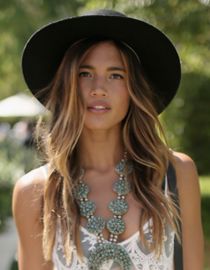 Contouring is the latest trend in streaks. What we already knew from makeup – modulating the features with dark and light camouflage creams for a striking presentation – has now been applied to hairstyling by colourists as well. How it works: With variously positioned highlights in the hair, especially along the forehead, cheeks and at chin level, the face of the shape can be brought out to best advantage. Photoshop? No way.
This is accomplished with what is known as the balayage method (from the French balayer, to sweep or brush). Rather than the well-known streaking or foil technique, individual strands with various spacing and thicknesses are 'painted' freehand with different (blonde) nuances – but only where the colour is intended to unfold its effect.
Hint: As with makeup contouring, the areas to be highlighted (such as the cheekbones) are accentuated with a light colour. With hair it is mainly the ends and the hair at the front that can contour the face. The hairstyle also gets an added kick and appears fuller.