© Getty Images
Wearing Red Hair is a Mega Trend
No other hair colours attract as much attention as the colours dubbed carrot, chestnut and cherry wood. Since red is an exceptional human hair colour, that should not come as a surprise. Currently, designers include the signal colour into their line-ups of fashion and hair styles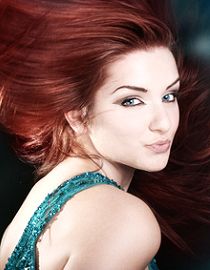 Christina Hendricks represents the essence of the new red hair trend. In the TV series 'Mad Men' she bewitches men with her curves and red hair. Barbara Meier demonstrates how hip red hairs looks in combination with delicate 'nude look' make-up. The German designer Wolfgang Joops presents her look as part of the Wunderkind label in Paris fashion shows.

Like so often, the fire for red hair was lit by the New York Fashion Week. Zac Posen, Anna Sui and Rodarte were quick to book red-haired top models for their shows. As early as last year, they contracted top models like the red head Alana Zimmer. Their looks include elaborate hair styles in artificial red shades and always in combination with smokey eyes as well as undone looking hair styles in natural shades of red. The redheaded models show restraint in matters of make-up, which consists mostly of a little mascara and otherwise only emphasises their flawless complexion.
Gallery: Red Hair the Way Celebrities Wear it
Christina Hendricks (starring in 'Mad Men') shows her stunning red hair and curves
Germany's up and coming top model Barbara Meier looks perfectly natural with her red hair
Rachel Evans knows how to wear red: Cheri, Cheri Lady Reloaded
Model Lily Cole's hair has always been red. It is her natural hair colour
Rihanna loves to experiment with her hair. Red suits her
Desperate Housewives star Marcia Cross is not desperate at all
Christina Hendricks
---
Christina Hendricks (starring in 'Mad Men') shows her stunning red hair and curves
Orange, Red Hair's Light Companion
´Orange hair colour was particularly prevalent in the 2011 spring/summer shows. Marc Jacobs, Rag & Bone, and Proenza Schuler are only three of the fashion tsars who try to establish a new colour trend. So far, the designers are content using the new colour for clothing, accessories, and lipsticks. However, if you fancy red hair and want to be in pole position for the new trend you should keep your eyes peeled for hair in light red shades.

Before you decide to ride the red wave, you should consider a few facts. For many people red hair typifies extravagance, eccentric behaviour and sex appeal. Red hair shouts, "Look, here I am!" Redheads should therefore be meticulous about their make-up and clothing. More strangers may invite you for drinks and you should be ready to handle it. If you actually welcome the lifestyle of redheads you are the perfect candidate for a radiantly red head of hair.