© Getty Images
Multifaceted: Red Hair Colour
What an eye-catcher: red hair! The hair colour's scarcity value makes it special, exciting and interesting. Stars like Riley Keough, Kristen Stewart and Kate Bosworth have recognised this, and decided to switch to a sexy red mane
Vigorous copper, precious strawberry blonde, magical mahogany or gaudy cherry red. The fiery hair colour is very versatile – and more popular than ever.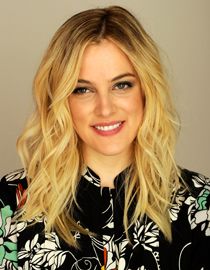 Several prominent ladies were quick to understand this, like Riley Keough for instance who said goodbye to her red mane (photo on the left) in favour of red: she coloured her hair in an intense copper hue (photo above). Entirely transformed, the actress appears far more interesting, exciting and seductive with the highly visible red hue. 
Pure attraction and always an eye-catcher: visit our gallery to see more stars who have chosen a new image with the hair colour red:
Gallery: Stars with Red Hair
A new look for Kristen Stewart! Not only did the actress say goodbye to her long rocker mane, she left her characteristic dark hair colour behind at the same time...
A pale copper red in the lengths of the impudent short cut – the film star is replacing the feminine Snow White look with the edgy grunge style (Kristen's preference). The contrasting hairline adds pep to the hairstyle for a red hot effect – too bad Kristen has switched again and now wears her mane in platinum blonde. We think red looks good on her!
If there was one thing you could rely on, it was Kate Bosworth's flawless blonde mane. Until now...
...on the movie set of 'Still Alice' where the Hollywood star surprises us with a rich copper hue. The warm shade of red in her hair gives the permanent blonde a very special look. Sexy and elfish, fresh and also impertinent, powerful and passionate. Colour rating: blonde hair could make way for this effect more often
A long, flowing blonde mane, a brilliant smile and somehow conventional – Lydia Hearst wanted to be more than the nice girl next door...
... and transformed herself into a femme fatale – thanks to red hair! The elegant shade of mahogany makes her complexion look radiant and has an almost magical appeal. With her new hair colour, the model appears highly sensuous and very attractive
Brown, blonde, red – Rachel McAdams is like a walking hair chameleon and loves to experiment with different colours...
... but if we had to choose, we would pick: strawberry blonde. This look suits the actress especially well. The trendy hue is a mix of blonde and reddish nuances, transforming the beauty into an enchanting redhead at second glance
Red Hair Colour: Kristen Stewart
---
A new look for Kristen Stewart! Not only did the actress say goodbye to her long rocker mane, she left her characteristic dark hair colour behind at the same time...
Red Alert for Copper, Bronze and More
A woman in a red dress attracts everyone's attention – and red has a similar effect when it comes to hair: it makes the wearer appear powerful, self-confident and sexy, radiating a magical and mysterious charm. Mahogany, copper or bronze: thanks to the variety of red hues, you can find the right nuance for any type.
Redheads: The Radiant Look
Red Hair Colour: The Secret Favourite
Copper sets the tone: The trendy hue shows its colours with great diversity.
Hint: A gleaming copper hue appears feminine. Matt makes the look edgy and wild.

Red Hair Colour: The Classic Look
Mahogany is probably the classiest red hue, making its wearer radiant and desirable.
Hint: This red hue is an all-rounder and works for just about any type.

Red Hair Colour: The Trendy Look
Strawberry blonde is especially popular right now! The hair colour works for light skin tones and looks especially pretty with freckles.
Caution: Dark skin tones should avoid this red-blonde nuance.

Red Hair Colour: The Natural Look
Red in a bronze hue is naturally beautiful. This red hair colour looks outstanding with both dark and light skin tones.
Hint: Nude makeup highlights the natural look.

Red Hair Colour: The Lively Look
Those who want to stand out choose a brilliant and intense red. The flamboyant colour is suitable for all skin tones and works best in combination with high self-confidence.
Caution: The lighter the existing hair colour, the more flashy the result.