© Getty Images
Bloggers Colour their Hair Red
Bloggers worldwide wear their hair fiery red. The blazing hair colour has become a fashion statement this summer among bloggers and stars. We like to share with you which ones of the red shades are trendy right now and how to colour your hair red the right way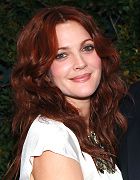 Red hair is rare. Only about two per cent of all people can claim the fiery hair colour as their own natural colour. In the course of the last weeks however, redheads have taken the scene by storm. They are no longer the rare exception. Bloggers all over the world and stars like Drew Barrymore are the trailblazers for this trendy firestorm.

Red Hair: Stay Close to Nature

There is a dazzling array of red shades from copper to strawberry-red to a dark deep red. There are no rules for your colour choice. Everything goes just as long as the colour appears natural. For light-skinned persons red hair is a natural match. If your skin tone is olive or darker you should consult with a professional before selecting your shade of red. Hair colours like plum, aubergine or black cherry do not occur in nature and may therefore look quite artificial.
Bloggers Fancy Red Hair
Blogger Reagan has opted for a soft strawberry-red hair colour. This shade complements her golden skin tone particularly well. Reagan works as a hair stylist in New York. Her blog 'Hairdresser on Fire' is a creative outlet for her. She shares pictures of hair styles and video tutorials with her site visitors and also provides tips on hair care products and hair colouring.

Fashion blogger Rebecca from Virginia has set her hair ablaze using an expressive shade of coppery red. Her hair used to be brown. Step by step, she bleached her hair to get it ready for the intense copper shade. Now, her hair colour is just as she likes it. Her outfit posts demonstrate how attractive red clothing can look on a redhead. So much for pre-conceived ideas!

In her fashion blog, Louise from France accompanies us on a nostalgic journey to times long gone. This is not at all to say that her style is out-dated. Her artfully styled red hair stays in style with her lovingly arranged photo series.