© Sarah Eichhorn / Josie Loves
Blog Trend: 2014 Hair Colours
Fashion designers have taken out their brushes and painted the new fashion with their brightest colours. Naturally looking hair colour is the perfect and very appealing contrast to colourful outfits. Women allow their natural hair colour to grow out and simply embrace the not so natural two-tone look. In matters of fashion, bloggers definitely keep an ear to the ground. Currently, they prefer naturally looking brown hair
The new brown is like the natural hair colour but more sensuous. This is achieved by keeping the hair dye close to the natural hair colour while giving the colour more depth and lustre. Iridescence and sophisticated light reflection tickle the senses. Light, medium or dark brown hair flatters almost all complexions. Using hair dyes close to your natural hair colour will achieve the most dazzling accents in brown hair. Optimally, blonde women select the colour of light caramel while dark-haired women reach for deep chocolate brown shades. The fashionistas among bloggers already wear the new 2014 hair colour.

2014 Hair Colour: Blogger Sarah colours her hair a sophisticated brown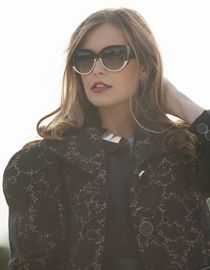 Sarah loves New York, Marc Jacobs, pink, gold jewellery, tutus and Gossip Girl. Sarah's blog 'Josie Loves' displays a kaleidoscope of interests. Our photo shows her feminine style. She prefers skirts over slacks and lets her hair frame her hair in soft, free-flowing waves. "I wear dresses and skirts almost exclusively. Cutting my hair short is unthinkable!" Sarah reveals.
Sarah's expertise does not stop at fashion. Her sophisticated brown hair colour and styling puts her ahead of the new hairstyle trend as well. This is the perfect hair colour and style for 2014. After colouring her hair for 12 years, Sarah knows that brown hair does not have to be created by natural hair pigments to look nature-made."It is funny, after all my experiments with all shades of blonde and dark brown, I am right back to my real (albeit not nature-made) hair colour and actually prefer it" she tells us.
Sarah does not mind the occasional bad hair day too much. She loves her hats: "Nothing works better than a beautiful hat to deal with a bad hair day. Besides, I discovered dry shampoo this year, which has come to the rescue a couple of times."

>> More about Sarah: Josie Loves

2014 Hair Colour: Blogger Sophie enhances her naturally brown hair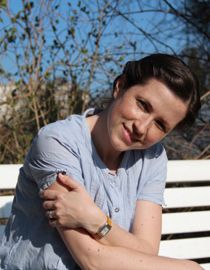 Blogging mom Sophie revealed herself as "Latte Macchiato Mama". She loves the moniker. Her blog "Berlin Freckles" is deliberately subtitled "Mama 2.0 between Lifestyle, Latte Macchiato and Regular Life". In her blob, the young mother muses about lifestyle choices, design, family, and children.

Sophie is a stylish woman who cares about her hairstyle and hair fashion: "My natural hair colour is brunette. There used to be a time when I considered my brown hair boring and added many blonde streaks to it. Unfortunately, I did not look good at all with those streaks. Now I wear chocolate brown hair. The colour enhances my naturally brown hair. Right now, I am expecting my third baby. Using permanent hair colour is out of the question. I use semi-permanent hair colour instead."
Sophie reveals her secret weapons against the bad hair day blues: "I use a scrunchy, many bobby pins and the right twist. I like to twirl my side hair and create a loose chignon in the neck. A helping of extra gloss hairspray keeps my hair beautiful all day long."