© Schwarzkopf
Summer is upon us – the days are long, and the nights are warm. The sun makes a longer appearance and not only lifts our mood, but also marks its territory on our hair by gracing us with sun-kissed highlights. However, we don't recommend you stand outside for hours and wait for the sun's rays to do their thing – this could be very damaging to your hair as we explained in our article on protecting your hair in the sun. What if we told you that you could look like you've been catching those rays even when you've been stuck inside? This is all down to Schwarzkopf Blonde Highlights. DIY highlights at home – it doesn't get much easier than that.
The easy way to highlights with Schwarzkopf Blonde
Whether you want a subtle change to your hair or want to take the plunge and go for something dramatic, highlights are an amazing way to get your hair summer ready. They add vibrance to any hair color and compliment all skin tones. Schwarzkopf Blonde Highlights enable you to lighten strands by up to six levels, and the anti-damage complex means you don't have to worry about the fate of your hair. The applicator enables you to create thin and thick highlights as you wish.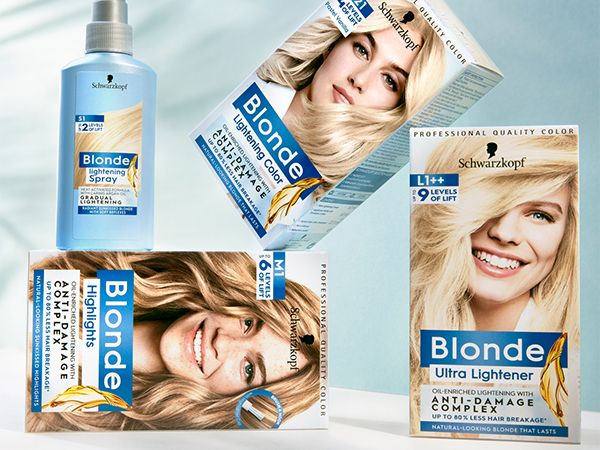 The range provides different levels of lift. For example, M1 offers up to six levels of lift and is suited to medium blonde and medium brown hair. M2, on the other hand, offers up to four levels of lift and is most effective on light blonde to light brown hair. The versatility of Schwarzkopf Blonde means that you have the choice of how much lighter you want your hair to look. For refreshing touch ups, the S1 Lightening Spray is the product to go for. The unique formula lightens your hair by a quarter of a shade with every use and you can even intensify the result with heat.
How to achieve summer highlights with Schwarzkopf Blonde
Not much stands in the way of gorgeous sun-kissed hair. Just follow these few simple steps (after having done a patch test in advance to rule out any undesired reactions) and that summer glow will appear in no time. Make sure you start off with dry hair!
Step 1: Put on the gloves that are included in the packet and mix the lightening cream tube and the sachet together in the applicator bottle.
Step 2: Shake the bottle well so that all the components are properly mixed.
Step 3: Apply the formula strand by strand. You decide the thickness and how much to apply depending on how thin or thick you want the highlights to turn out. Use the applicator for this.
Step 4: Leave on for the amount of time stated in the instructions. Please note that the darker your natural hair is, the longer the lightener should be left on to achieve a lighter result. Never exceed 45 minutes.
Step 5: Rinse until the water runs clear, and that's it!
 
So there you have it – summer highlights without the sun! With Schwarzkopf Blond Highlights, you can get your hair summer ready and not even have to leave the house. Natural-looking, kind to your hair, and easy to achieve, you'll wonder how you ever lived without shimmering highlights and Schwarzkopf Blonde.