Sombré: The Soft Ombré Look
Light tips have established themselves as a colouration trend. Among them is sombré: short for soft ombré, it means 'softly shaded' and sets itself apart with even more delicate, multifaceted colour gradients than its big sister ombré. The best thing about that: it makes the shadow play of dark and light appealing in hair of all colours and lengths
Is ombré just about passé? No, it remains a long-time favourite – continuing to conjure up hair with the sun-kissed look. But since the two-tone style with dark lengths and light tips has been asserting itself on trendsetter heads for a while now, it was time for an update. Great timing for 'sombré'. With the soft ombré look, the transition between the hues – usually from dark to light – appears much more delicate and subtle. With ombré hair, the colour difference from the hairline to the tips can encompass up to six nuances, with sombré no more than three. The transitions are also gentler with sombré. That makes the flow of colour in sombré hair especially natural.

The following benefits speak in favour of the soft hair colouring trend:
Natural is in high demand: thanks to the softer transitions and more subtle colour differences, this look appears almost entirely natural instead of dyed.
Sombré for everyone: the slightly lightened tips look good with hair of any length.
Excellent for short cuts: the delicate colour gradient can add volume, depth and texture.
Colour kick: with sombré you can add a cool effect to your natural hair colour in next to no time.
Try it without risk: you can simply let the colouration grow out again because there are no hard colour transitions.
Sombré: Boundless Goodness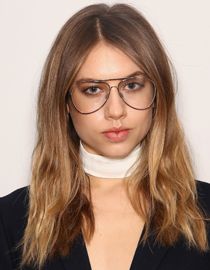 The colouration method for ombré and sombré is basically the same: rather than a brush used for other colouration techniques, the light colour is applied with a comb. That guarantees a flowing colour gradient in the hair. Special braiding and weaving methods can be used in addition for the natural sombré look, purposefully creating fine highlights. These mini-strands can combine dark and light shading even more subtly for a tailor-made look.
Why does the colour trend work in hair of any hue? While classic ombré combines blonde and brown, sombré is ideal even for red and black hair. By the way, a long mane is by no means a must for the lightened tip trend; it stylishly refines a bob or pixie too.