© Getty Images
Rainbow Colours in Your Hair
Today's stars discover bright, pastel, and taupe hair colours. The up and coming hair colour trend includes the entire paint box range for imaginative hair colour combinations. Red and hot pink hair mingles with strands of purple; green hair transitions to blonde and shows traces of violet.  We want to guide you as you venture into the brave new world of hair colouring
Colour blocking in all tints and shades of rainbow colours is all the rage among celebrities like singer and actress Lily Allen or model Chloe Norgaard. Colour combinations allow for plenty of creativity and appeal especially when chosen with a sense of artistry. Now is your chance to colour-block your hair in your favourite hues.
Rainbow Colours for Your Hair: Lily Allen
'Life is as colourful as you paint it.' Using all rainbow colours for your hair may help you paint a more creative and playful image. Lily Allen certainly embraces the above sentiment. She loves to design upbeat hair colour schemes. In our photo, her hair displays the colours of the setting sun and soft transitions from dark purple over pink and red to bright orange. The clavi-cut adds further to the upbeat nature of this style.
Rainbow Colours for Your Hair: Chloe Norgaard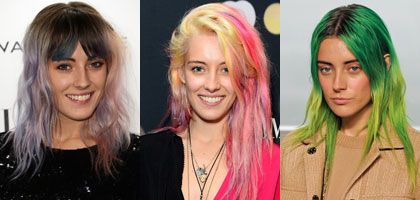 The rainbow hair trend was quite likely introduced to please Chloe Norgaard. Nobody else changes hair colours as often as the US American model Chloe Norgaard or is more inclined to exhaust the colours of the rainbow in days or weeks at the most. Extravagant hairstyles and hair colours are her trademark. Almost on a daily basis, she surprises with new hair colouring schemes both in her private life and on the job as model.
At the Elle Style Awards 2014, Chloe Norgaard appeared with her hair coloured in various pastel colours (left). She combined violet and light blue coloured hair ends with strands in shades of green and pink. The hair close to the roots shows her natural brunette hair colour. Casual beach waves add flair to the cool styling.
For her appearance at the Belvedere Party (centre),Chloe Norgaard coloured her hair yellowish blonde near the roots; close to the ears, her hair transitioned to a luminescent hot pink. The colour scheme is accented with purplish strands of hair. Her 1980s hairstyle imparted yet another level of extravagance. Chloe Norgaard's hair colouring schemes may establish a new hair colouring trend.
Another show another hair colouring scheme! At the Whistles Show, Chloe Norgaard appeared wearing a grunge style outfit with her hair parted in the middle and coloured in shades of neon green (right). Toward the hair ends, the intensity of the green hair colour faded to almost blonde.
Rainbow Colours for Your Hair: The Best Hairstyles for Imaginative Colouring
Long hair (bob length or longer) provides you with a large canvas for rainbow-colouring your hair and showcasing your favourite colour schemes.
Colour-blocking is an extravagant hairstyling option in its own right. Combined with smart styling it allows you to create an overall modern and artistic style all of your own. Flowing hair with accurate middle parting lends flair to hair shimmering in appealing colours. Bright colours and sleek hair often create a youthful appearance. Beach waves have their own unique charm in combination with sophisticated or extravagant colouring.
The new hair growth near the roots can be integrated into your hair colour scheme. Many different colouring schemes and styles are available for hair colouring artists from faint nuancing and elegant colour transitions to wild and sassy colour blocks. Use side flips, middle and side partings as well as different styles of fringes to fit your colour choices.
Rainbow Colours for Your Hair: How to Care for Dye-Treated Hair
Proper colour protection is essential for deep and lasting colour effects. Modern hair care products for colour-treated hair ensure that colours retain their luminous beauty and last through many shampoos. Optimal hair care for dye-treated hair keeps hair supple and shiny.