© Getty Images
Red Hair in 2015
Strawberry red, dark red, neon-red or brownish red are the fashion hair colours in 2015. Red streaks are popular as well. The colour of fiery passion and sensual delight has its impact on hairstyles. We show various tints and shades of red in combination with 2015 hairstyles
Designers like Vera Wang, Stella McCartney, and Valentino feature red hair. Their models showcase modern ways of wearing red hair. In 2015, we will see red hair in amazing tints and shades from fiery to sensual. A sense of daring and vibrancy accompanies the red hair colour trend
Ways of Wearing Red Hair in 2015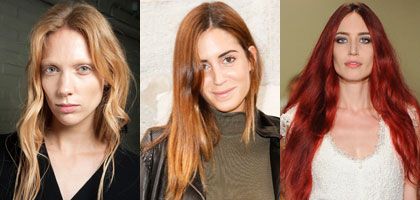 Red is the colour of passion. As hair colour it imparts sensuality, life-affirming vibrancy and often also the visual manifestation of a fiery temperament. Many tints and shades of red are available to select the red hair colour, which fits your temperament and complexion. Strawberry blonde (on the left) is particularly suitable for light complexions. The vibrancy of brownish red hair (centre) adds glow to light to medium complexions. Neon-red (right photo) is the most luminous red hair colour choice (right photo) for playful free spirits.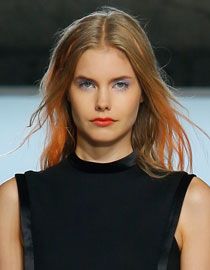 Red highlights or streaks are the perfect solution for women who do not want to colour their entire hair red. Red dip-dyed or ombre hair or red streaks are in vogue in 2015. Streaks are back in favour adding soft to fiery red hues to light or dark hair.
Left: Model with fading red streaks in her light brown hair
Trendy 2015 Hairstyles for Red-Haired Women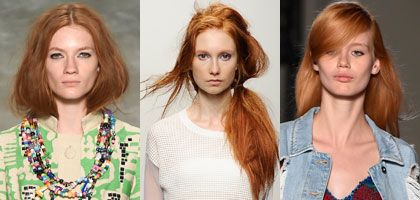 With all the tints and shades of red it should be fun to find the best red colour nuance for your hair. Of course, hair colour and hairstyle choices should be a matching pairs. Red hair looks particularly glamorous if it is paired with big-volume hairstyles. Tucked-in matte hairstyles (left photo) look especially cool in combination with red hair. Red hair and messy hairstyles are also an impressive combination. Here, the red-haired model wears a just-out-of-bed side-swept low ponytail.