Quiet and Gentle – The New Pastel Hair Colours
The subtle pleasing effects of pastel colours have found new expressions in today's fashion. The new hair colour choices follow the same colour trend. The quiet elegance of pastel colours can be used to create impressions from ornate to whimsical. We show stars wearing hair colours like violet, pale blue, soft rose and even a hint of orange
If you prefer soft colours and quiet expressions the pastel colour trend is for you. Quite a few stars made the understated colours their own. The entire pastel colour spectrum is available. That makes it easy to find the colour and shade, which fits your complexion and style.
Nicole Richie (see the photo above) decided on a cool greyish violet colour nuance. It is just the right colour to direct attention to her attractive facial features and her marvellous complexion. The beach waves bring shading and movement to the otherwise uniform violet colour. The carefully applied makeup adds contrast to the overall impression.
Stars Wearing Pastel Hair Colours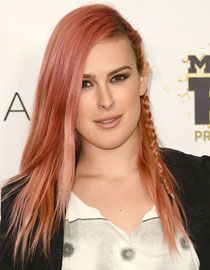 Rumer Willis
Warm pastel colours like gold and pink are your best choice if your complexion is on the light side. Rumer Willis coloured her hair a saturated pastel pink. It is the perfect colour for her fair skin. Sleek hair and the braided hair element on her left side give this hairstyle the young and casual note.
Left: Rumer Willis dyed her hair a saturated shade of pink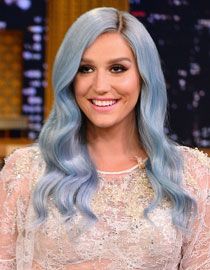 Kesha
Trendy or unusual hair colours are nothing new for singer Kesha who changes her hair colour often. She calls her newest hair colour 'violet-pale blue'. The dark roots are visible. The greyish light blue hair requires a healthy complexion. Otherwise, the overall impression will be 'washed out'. Kesha brings life to her hairstyle with large soft waves and a glossy shine. The lively makeup as well as the pink lips and cheeks are also a welcome contrast to the muted blue of her hair colour.
Paloma Faith
The pastel orange colour of Paloma Faith' long curly hair looks almost reddish blonde. The colour fits her fair complexion and elfin appearance. Paloma Faith' penchant for glamorous styles is well known. However, here her striking eye makeup and the dark berry-red lips create a dramatic appearance.
Left: The faint orange hair fits Paloma Faith' complexion and elfin appearance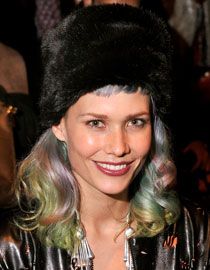 Nanna Øland Fabricius
The coloured strands of hair add a playful note to the curly long hair. The Danish singer skilfully selected shades between blue and green and combined them with nuances of reddish violet. The undone styling and the naturally looking makeup create an upbeat appearance.
Left: Strands of various pastel colours weave through Nanna Øland Fabricius' blonde hair