© Getty Images
Men with Bleached Blonde Hair
Some men like to lighten the colour of their hair to a shade of blonde. We show well-known men who decided to colour their entire hair or a few strands of it blonde and provide tips for men who want to give blonde hair a try
David Garrett is well-known for his exceptional ability to play the violin. He is also known for his stylish appearance. His thick long hair is not only part of his image but also the envy of many women. The violinist does not only attract attention because of the length of his hair but also because he colours it blonde. Few men make exceptional hairstyle choices quite as openly as David Garrett.

Men who colour their hair blonde share two traits: 1. they are self-assured and daring; 2. they relish the attention. Blonde hair attracts attention more than brown hair to say nothing about bleached blonde hair on the heads of men. Blonde hair gives men an air of openness if not the air of the fair-haired prince – a young prince that is. Blonde hair is often associated with youth and carefree days at the beach. No doubt, these men care about style. Otherwise, they would not bother with colouring their hair.
Bleached Blonde Hair for Men: Blonde Comes in many Shades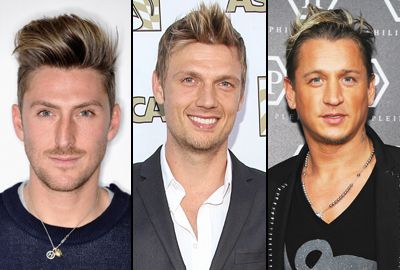 Dependent on the natural colour of your hair, the results of colouring your hair blonde will be more or less obvious. David Garrett quite noticeably dyed the yellowish blonde top layer of his hair. The contrast to the rest of his hair can hardly be overlooked. By contrast, designer Henry Holland's caramel blonde streaks spring much less into view because they blend well with his natural hair colour. Please note: If your natural hair colour is dark, colouring it blonde will have a very striking effect. After colouring, the dark hair will grow pushing the much lighter hair ahead to form a line of stark contrast. Backstreet boy Nick Carter (light brown hair) and the French football player Philippe Mexes (dark brown hair) added blonde highlights to their hair. While the streaks add interest to their hairstyles, the transitions from dark to light hair clearly stick out.