© Getty Images
Styling-Tips for Grey-haired Men
Grey-haired men are often complimented on their distinguished look. Timothy Olyphant, John Slattery and other stars show the appealing side of greying hair. We hope they assist you in finding the most attractive and suitable haircut for your greying hair
Have a look at the three guys in our photos above. The right photo shows Adam Lambert (born 1982) who is the youngest of the three. He probably does not want to sing the praises of old age but rather wears his voluminous grey hair to stand out in the crowd. Young stars like Adam Lambert and Kelly Osbourne love to wear their hair grey and enjoy playing with clichés. Of course, distinctive appearances are known to work as attention-getters in youth-obsessed Hollywood. White hair mingling with natural hair colours on the heads of youthful stars surely turns heads while purple, pink or green hair goes unnoticed.

The photo of Timothy Olyphant (born 1968) sits smack in the middle and so does his hairstyle. His salt-and-pepper hair close to the temples and in his greying beard looks naturally distinguished and adds to the appeal of the mature guy who knows who he is and what he wants. Why change something that works so well?

This also applies to John Slattery (born 1962) in our photo on the left. Almost all of John Slattery's hair lacks pigment and is therefore close to the transition from silver to white. His spiffy hairstyle and the nonchalant attitude show a person who knows how to put his best foot forward without being uptight about it. No wonder he attracts admiration as well as desire.

The Best Hairstyles for Men with Greying Hair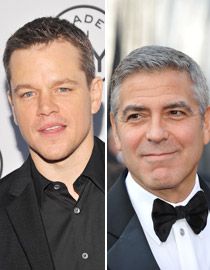 No matter how stars and celebrities handle or (pretend to) embrace their greying hair, upon discovering the first white hairs most men (or women) have just one emotional response: "Oh no! Get rid of them!" After the first shock of realising that ageing happens while we are not looking, most men will at least shorten the hair on their head or shave a greying beard. This response is very constructive. In our photo, Matt Damon shows just how appealing short hairstyles are for men with greying hair. It is also the most popular timeless hairstyle for men with greying hair. George Clooney demonstrates how to wear greying hair with style and class.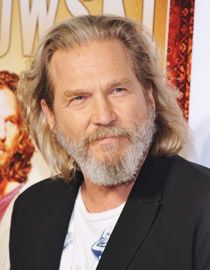 It may take a while before people make peace with the idea of greying hair. It is best to have a strategy when the first stray white hairs can no longer be hidden or ripped out. How about allowing the white strands of hair freely mingle with the rest of your long hair? Adam Lambert, Timothy Olyphant and John Slattery (see the photo above) demonstrate how it is done with class. Jeff Bridges with his greying shoulder-length hair and thick full beard is the image of the outdoorsman like his younger colleagues Charlie Hunnam and Jake Gyllenhaal.