You don't have to be perfect, but your hair can be
Did you know that you can get perfectly natural-looking grey coverage for your hair? We aren't just talking about your head; your facial hair is included in this as well! Discreetly cover your greys in minutes thanks to Men Perfect Anti-Grey Coloring Gel and Men Perfect Beard Coloring products that have been developed especially for men. Say goodbye to your grey hair!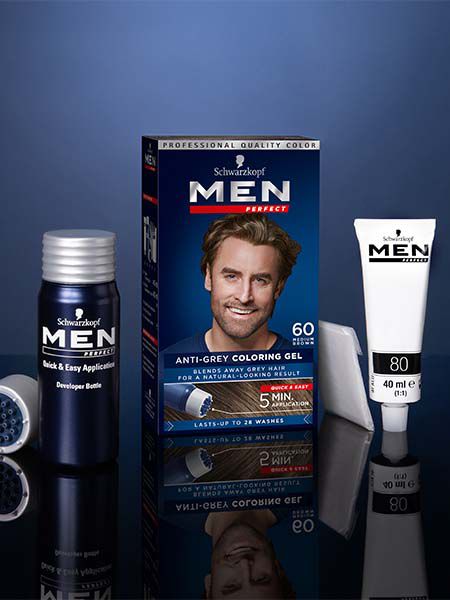 Men Perfect Anti-Grey Coloring Gel for a natural looking head of hair
The secret is out – now you can blend away your grey hair easily, whether you have the first signs of greys if you have a few more adorning your hairstyle. Men Perfect Anti-Grey Coloring Gel says goodbye to grey hair in minutes. The formula is gentle on your hair and scalp, helps support hair strength, and you get color that lasts up to 28 washes, giving you a perfect head of natural-looking hair. Choose the color that is closest to your natural hair color and with our array of products, we are sure to have the color that is right for you: 30 Medium Blond, 40 Dark Blond, 50 Light Brown, 60 Medium Brown, 70 Dark Brown, 80 Black Brown, and 90 Black. We'd recommend using a lighter shade if your natural hair color is between shades or if you are unsure which color to go for.
Thanks to the innovative easy-to-use applicator you can achieve natural looking hair within minutes. To cover a few greys, leave the mixture on for 5 minutes. If you need to cover a few more, leave it on for a little longer. Simply follow the instructions included for best results.
Men Perfect Beard Coloration Cream
Now that your head of hair has been perfectly colored to natural-looking perfection, you no doubt want the rest of your facial hair to follow suit. Men Perfect Beard Coloration Cream has been especially designed and formulated to cover grey facial hair for men, so you don't need to worry about finding the right product to use on your facial hair. The best thing about it? It's quick and easy to achieve, perfect for men who want to care for their beard and look their best!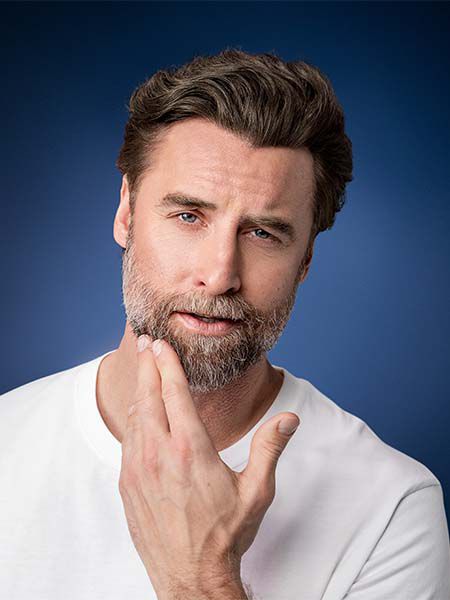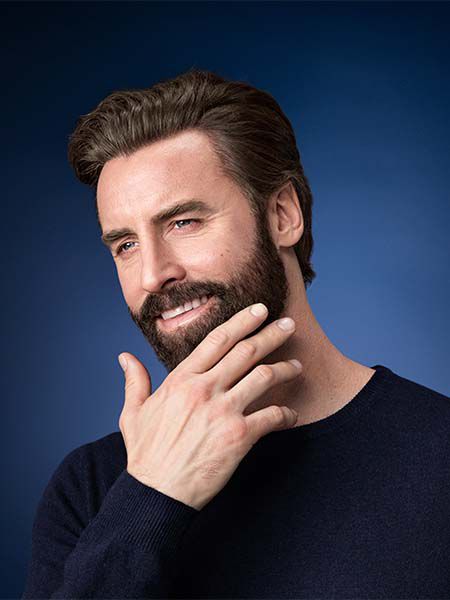 Men Perfect Beard Coloration Cream tutorial
The Men Perfect Beard Coloration Cream is especially formulated to cover even the most stubborn grey hairs quickly and easily. For the best coverage, read through our easy-to-follow guide.
Step 1:
The fullness of your beard will determine how much of the cream you are going to need. Put the same amount of cream from both the tubes into the mixing bowl. There's enough coloration cream to last for up to three applications. Now, mix them together using the brush provided.
Step 2:
Apply the mixture to your beard, ensuring you cover every hair. Depending on the grey coverage needed, leave the cream on for around 5 minutes. You can adjust the time if you have quite a few greys to cover. Read the enclosed instructions for extra guidance.
Step 3:
It's time to rinse the cream off with a plenty of water. You're done, enjoy your perfect, natural-looking beard.

Now you can confidently step outside with natural-looking hair thanks to the Men Perfect Anti-Grey Coloration products that blend away your greys discreetly and easily. Grey hair? What grey hair? Your secret is safe with us!