© Istockphoto
Hair Colour Change from Blonde to Brown
Laura Haddock and Elisabeth Moss like to experiment with their hair colour, which may change from blonde to brown and back again. The hair colour has quite an impact on a person's appearance. This impact varies from person to person according to individual features and temperament
"Blonde or brown, I love all women", says Robert Stolz in the lyrics to one of his well-loved songs. All hair colours are beautiful as long as they fit the wearer. There is no reason not to try different hair colours.

We watched Laura Haddock and Elisabeth Moss change their hair colour from blonde to dark-brown and back. These two stars exemplify how varied the impacts of hair colours are on the images of individuals.
Hair Colour Change from Blonde to Brown: Laura Haddock
British actress Laura Haddock (see the photos above) keeps changing her hair colour from blonde to brown. Her image seems to change with the hair colour. Many associate the light wavy hair and the casual middle parting with summer, sun, and beach. Blonde hair is often also considered especially alluring. By contrast, she looks demure and romantic with dark brown hair.
Hair Colour Change from Blonde to Brown: Elisabeth Moss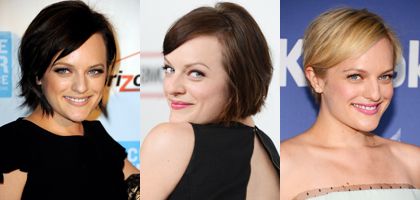 Actress Elisabeth Moss ('Mad Men') looks great whether her hair is blonde or brown. She appears to be well grounded with the darker hair colour, while the blonde hair softens her looks and brings out the sunny side of her character. Like a light frame around a picture, the borders between blonde hair and face are softer and not quite as distinct.

Blonde or Brown: Same Hair Colour different Hairstyles
Laura Haddock's wears her blonde her long and flowing while Elisabeth Moss'blonde hair is short. The impacts are obvious. Long and wavy blonde hair looks soft and feminine. By contrast, short blonde hair often looks young and sassy.

Hairstyles also influence the impact of brown hair on others. Laura Haddock'slong loosely piled up brown hair has a sensual character. Elisabeth Moss appears stylish with her short brown bob with asymmetrical fringes.
The upshot is that the length of hair and hairstyles influence the impact of different hair colours. This offers yet another tool to modify the impact of a chosen hair colour.