© Istockphoto
Brunette: All Facts About the Hair Colour
Beautiful brunette: Meek, friendly, perhaps slightly offish – that is how we often imagine brunettes. But did you know that brown hair makes you clever and is especially popular with men? We reveal brunette facts and everything else you need to know about the popular hair colour
Popular brownies: Audrey Hepburn, Romy Schneider, Angelina Jolie and Countess Kate – these women have two things in common: They are brunettes and have taken the whole world by storm! So why is well-behaved and boring often brought up when it comes to brunettes? In fact the list of exciting women with brown hair could be continued endlessly. Even many prominent blondes have already succumbed to the dark temptation: Cameron Diaz, Katherine Heigl and Reese Witherspoon – all of them have tried out the attractive hair colour before. With seductive results! The latest ex-blonde in the brunette bunch: Desperate Housewives star Felicity Huffman. Known as a blonde superwoman in the successful series, the actress first presented her brown dream hair at the Emmy eve party. Housewife look? Not at all!
By the way, the word brunette is derived from the French – brunâtre – meaning 'brownish'. We check the facts – why brown is a very special hair colour:
Fact 1: Brunettes are clever
This is more than a stereotypical conclusion, it is proven: 63 percent of female academics in Germany have dark hair. Various studies also prove that brunettes are most likely to be associated with intelligence.
 
Fact 2: Brown is powerful
Strong hair: Brunettes have reason to be proud of their stable hair structure. While other manes can be thin and sensitive, brown hair has a natural styling advantage: From a voluminous lion's mane to precisely braided creations – brown exhibits endurance and panache with any hairstyle!

Fact 3: Men say: The one is a brunette
In a survey conducted by the online dating site eDarling, the lords of creation associate brown hair with intelligence, success, loyalty and humour. This total package is probably the reason why men according to the survey can image the 'love of their life' being a brunette.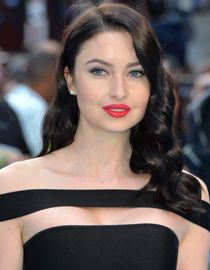 Fact 4: The highlight among hair colours
Brunette hair reflects light extremely well. This means brown is never just brown: With gold and silver highlights, the shades always appear extra classy. This brilliance and the various nuances come out even better with proper care. Brilliant beauty finish for brunettes: Hair oil with liquid crystals. Radiantly beautiful!
Fact 5: Brown is irresistibly sweet
Literally: The names of the various brown hues are often noticeably appetising and sound highly seductive. From classics like caramel, nougat and dark chocolate to trend names such as brown sugar – brown hair is destined to make you melt.
Are you ready for a taste? For even more hot brownies and brunette stylings, visit our gallery:
Gallery: A Dream In Brown
Brown is well-behaved? No way! A loose updo in the undone look can be very exciting. Consider actress Gemma Arterton for instance, who styles her dense fringe to the side revealing her stunning eyes
With this eye-catching hairstyle, silver screen beauty Jamie Chung proves that boredom never stands a chance with brown hair: Several fine plaits combined with gentle waves form a refined, romantic half-up style. The partly intertwined waves in the lengths emphasise the beautiful interplay of colours created by caramel highlights in luscious brown
Brown and unsophisticated? Never again! Actress Dascha Polanco knows a simple styling twist that puts the trend focus on brown hair: Defined corkscrew curls conjure up extra volume to create a wild Amazon look. How to top this coolness factor: With a mini chignon on the crown
As you would expect of a 'Gossip Girl', series star Jessica Szohr is long since in the picture about the hottest colour trends. Her current styling secret: An ingenious colour gradient from dark brown at the hairline to the toffee-coloured tips. The light reflections in the changing colours are brought out even more intensively by this colouring technique
The typical Gretchen look has to be blonde? No way! Here is proof in brunette. Instead of nice and naive, the hairstyle is casually urban: The hair is braided on one side, draped over the head and pinned on the opposite side. This braided version is even cooler in the undone style. Simply pluck a few strands out of the hairstyle to create this look
Brilliant Brunette: The Femme Fatale
---
Brown is well-behaved? No way! A loose updo in the undone look can be very exciting. Consider actress Gemma Arterton for instance, who styles her dense fringe to the side revealing her stunning eyes