© Schwarzkopf
Trend comeback: platinum blonde is cooler than ever
Blonde, blonder, platinum. The lightest of the blonde tones is an old acquaintance among hair dyes. Platinum blonde has been around since the 1990s, but only now the color has finally shed its Barbie image. Read on to find out what you need to know about the coolest of the blondes. 
For a long time, trendsetters snubbed blonde. The lightest shade among the blondes was dismissed as Barbie's favorite. It wasn't exactly cool – until now! Platinum blonde is on trend and has finally shed its girly image. Yes, bleaching your hair is cooler than ever before. Fancy a platinum look? Great! You won't regret it! But before you get started there are a few things you should know. 
Hair color trend platinum blonde: best conditions
Successfully bleaching your hair is a challenge because the process can dry out your hair and harm its structure. The result is breaking and damaged hair. It's much safer to visit a professional hairdresser to discuss your concerns, especially if you're not sure about going blonde. If you're lucky enough to meet the following conditions, few things are standing in your way to a lush platinum blonde mane:
Your hair is naturally ash blonde – natural dark blonde shades are best for going platinum. Dark brown or black hair is difficult to bleach.
You've got short to shoulder-length hair. Regular trimming keeps shorter hair healthier than long hair. What's more, adding product to short hair is simple and a uniform color can be achieved more easily.
Your hair is healthy. Damaged or stressed hair won't give you the desired result and you'll be causing more damage. Bleaching is not advised!
You practice good hair care. Before and after bleaching it's important to avoid needlessly stressing your hair. After washing your hair, dab it dry rather than rubbing it. Use a coarse comb and avoid styling methods that use heat. If you need to use a blow dryer or straightening iron remember to apply extra heat protection.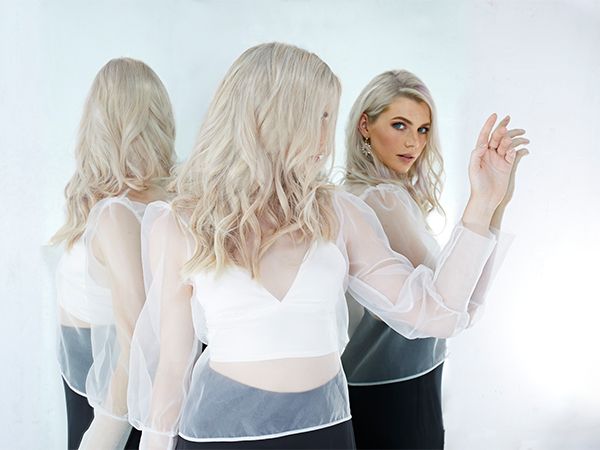 Platinum blonde: DIY at home or hairdresser's?
If your hair is naturally blonde, you can bleach it yourself. We recommend platinum highlights rather than bleaching your entire hair. For people with colored hair, all the color particles will need to be removed before going blonde. That's best left to a salon professional. Together you can decide on a blonde shade that works for you and your hair, and you're less likely to end up with yellow tones or brassiness after bleaching when visiting a salon. However, you may need multiple visits to achieve a platinum look depending on your natural hair color. Darker hair will require a few rounds of bleaching.
How to care for platinum blonde hair
Besides courage, what else do you need to go platinum? Care, care, care. The bleaching process opens up your hair's cuticle layer to remove the hair pigments and leave a white blonde shade. But the process can be damaging and hair may look dull and dry as a consequence. That's why it's all the more important to provide your hair with some extra TLC. Use a special deeply nourishing conditioner once or twice a week and treat your tips to a special hair oil after washing. Heat can damage your bleached hair further, so use cold air when blow-drying and always apply a heat protection spray.
Who suits platinum blonde?
Women with a minimalist fashion style tend to look coolest with platinum hair. It's the Scandinavian look and they supposedly know a thing or two about style! Platinum hair is a youth elixir for that radiant, fresh glow! But be careful: growing roots can quickly look neglectful. That's why regular root touch-ups once a month are (sadly) a must. Maintenance of your platinum mane is something you should consider before booking an appointment.