© Schwarzkopf
The Amazing Feminine Allure of Dark Blonde Hair
Have a few rays of light hit a head of beautiful dark blonde hair, and you will immediately see that its colour is really a tint of brown with golden flecks for structure and sophistication. We show how to achieve this alluring hair colour and how to care for dark blonde hair
There is certainly nothing dull about dark blonde hair. This is quite apparent if you give the artist in you the time to look at the intricacies of this hair colour. The soft yet light warmth of this colour creates an air of natural elegance and femininity. It will be hard not to give dark blonde hair a second look especially if the haircut allows it to move freely and streaks add visual texture to it. Dark blonde hair has a way of framing your face softly without overwhelming your face and makeup.
How to Colour Your Hair Dark Blonde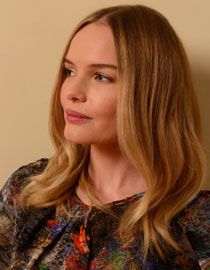 The natural colour of your hair should be in the range between light blonde and medium brown if you want to use permanent or semi-permanent colour applications to achieve the desired dark blonde colour. Have a close look at your natural hair colour before you decide on a cool or warm dark blonde tone.

Beware: You may have previously coloured your hair blonde or added light streaks to it. These colour treatments involve bleaching, which extracts the natural red pigments from hair. As a result, the dark blonde colour application may not exactly provide the expected colour result.
After colouring your hair dark blonde, you may add a few highlights as shown by Kate Bosworth.
How to Care for Dark Blonde Hair
Only healthy hair with a smooth intact outer cuticle layer will show the full range of its beauty and colour. The pigments responsible for the hair colour reside deep within the hair shaft. When cuticles cover the hair shafts in tight even layers the full beauty of the colour will shine through them. This is where colour protection shampoos come in. Aside from conditioning the hair, they also protect the full beauty and intensity of your hair colour.
Makeup Tips for Women with Dark Blonde Hair
Dark blonde is a soft, naturally looking colour. Using nude makeup sparingly will deepen this naturally beautiful appearance. Light complexions in combination with cool dark blonde hair look particularly beautiful with a little rose-coloured blush. Warm dark blonde hair calls for bronze blush on light skin.

Styling and attitude can bring out the bolder side of wearing dark blonde hair. Makeup choices also determine whether you want to look feminine or sassy. Neutral colours work best in combination with dark blonde hair. Flashy colours simply do not look harmonious next to the soft tones of dark blonde hair.
Gold, ochre, and brown are ideal makeup colours for women wearing warm tones of dark blonde hair. Both the hair and the complexion will show a warm glow.
Cooler silvery makeup colours work well with the cooler tones of dark blonde hair.