© Jamie Grill
Colouring Your Hair Blonde: The Ideal Technique
Hair colour turns lighter mostly through depigmentation (bleaching) rather than through colouration. Read on and learn what to keep in mind when you bleach your hair and how to control unwanted side effects
Lightening your hair – an alternative to dyes and bleach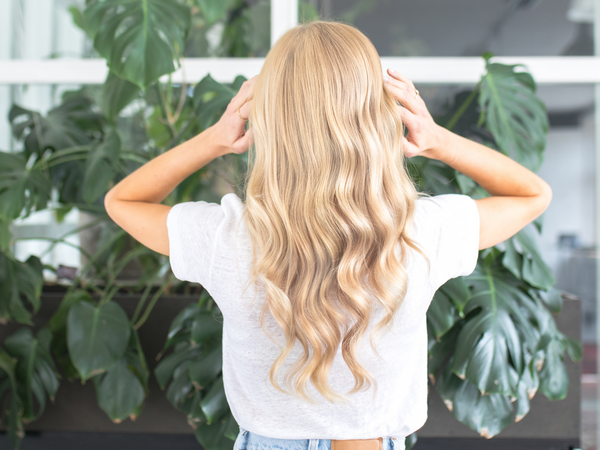 Lightening is a process whereby you can achieve a lighter, blonder hair color, without having to use a lot of bleach, and it works with the pigments already in your hair. The process is much gentler on your hair and can be used on any hair to lift to a lighter shade, although achieving blonde with a lightener is only possible for medium blond to medium brown hair. 
How to use lightener
If you've made the decision to use this gentler form to lighten your hair, you may still be wondering how it works. To get the shade you want, you should buy a lightener that suits the hair you have – don't look for products that are suited to lighter hair, because they may not help you! Here's a quick guide on how to use hair lightener.
Prep work! Get some gloves and set out all the products you'll need to mix and apply your lightener. You should have unwashed, dry hair to start.
Mix your lightener. Most will have a lightening cream and a sachet of powder or a liquid – mix these together in your applicator bottle.
Apply the mixture straight away – don't let the contents of your bottle sit on the counter and develop.  Apply to the area you want to lighten – if you're touching up regrowth, that means just the roots. If you're doing this the first time, do the whole head of hair.
Wait for the lightening product to work for 30-45 minutes. It depends on how many shades you want to lift your hair. The longer you wait, the more your hair will lighten. It is normal for your hair to lighten through reddish and yellow stages – don't panic, and don't wash it out early!
Strand check your hair. Pick a small strand of hair and wipe the product off using a tissue. Check to see if you've reached the color you want. If not, reapply the product and wait a little longer, but no longer that 45 minutes total application time.
If you're ready, rinse out the product until the water runs clear.
Your pack should include and after treatment product. Massage this into your hair and let it work for 3 minutes, unless stated otherwise. You're done!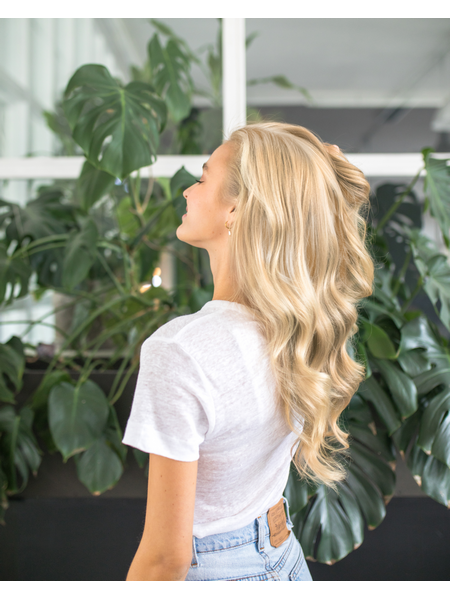 The top lightening products: Blonde Lighteners range
Getting the right lightening product can help you feel at ease making a change to your hair. Feeling good with a new hairstyle is a great feeling, so picking a good product is a wise choice. A product which can help you lift your hair up to 5-7 shades is L++ Extreme Lightener Plus. This lightener is an intense lifting lightener and contains a conditioner with blue pigments to help you get that icy cool blonde you're after. It is suitable for medium blonde to medium brown hair. Or maybe you prefer more of a silvery blonde? This can be achieved with the L101 Lightener Silver Blonde, which can lighten up to 7 shades!
You don't need to be blonde to lighten your hair with a lightener, however. There are lighteners out there that can lift dark brown and even black hair by a few shades to help achieve a non-brassy, lighter look. Products such as LD Dark Hair Lightener may not give you an icy platinum blonde, but they'll certainly lift darker tones and get you on the way to a luscious light brown to dark blonde-looking hair color!
Your hair is not really blonde? This is true for 95 per cent of all people. On average, one third of all German women are blonde but nature has given only very few of them blonde hair. All but these few women have spirited the natural pigments out of their hair. Among the colour treatments, bleaching still is number one on the list. While extreme blonde hues like platinum blonde are all the rage for models and stars, in the everyday setting women prefer softer honey and caramel hues.

Artificial blonde should certainly not look cheap but rather breathtakingly beautiful. The bleaching must therefore be done carefully and with a good sense of colour. Soft naturally appearing blonde hair is beautiful. Even brunettes can change to this hair colour, and our tips will help to just that without properly and for the most part without damage.
Bleaching and How to Do it prop