© Schwarzkopf
The Various Ways To Achieve Blonde Locks
Want to turn your mane blonde? Then go for it, take the plunge and lighten your hair! Coloration, dyeing, spraying, or streaking – we reveal the different options you have and what effects you can achieve with each of them!
First things first - if you want brilliant platinum blonde hair straightaway, or you want to go from brunette to blonde, bleaching is the only way and we recommend you go to a hair salon for this. But if the color change you want is not quite so radical – perhaps from dark blonde to light blonde – you can choose a somewhat gentler lightening method. Also ask yourself what effect you want to achieve - would you like this gorgeous new color to be permanent or do you first want something temporary so you don't have to commit 100% just yet? Here is an overview of your options if you want to go blonde: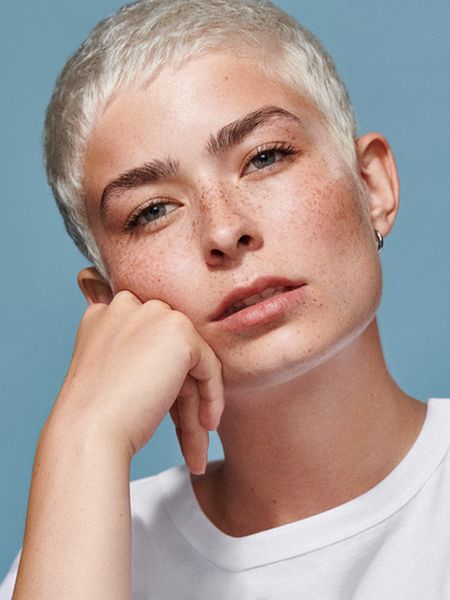 Coloration
You can lighten your hair by one or two nuances with coloration. This is gentler than bleaching because the hydrogen peroxide concentration is far lower. It is therefore ideal if you just want to lighten your existing blonde by one shade or are simply seeking a new color highlight for your hair. For instance a gold nuance, a copper hue or an ashy pearl effect. Coloration is a great way to cover up those first few gray hairs too.
Effect: The coloration process also opens the hair cuticle just like bleaching. But instead of just removing the natural pigments, it also replaces them with artificial new ones. The result is permanent so the color cannot be simply washed out again. It has to grow out since the new color molecules are sealed inside the hair.
By the way: If you're wondering what the difference is between coloration and dye, hair dye gets absorbed inside the surface of your hair, while hair color stays on the surface and colors the hair from the outside only. You can identify coloration by the fact that two components, a color cream and a developer, have to be mixed prior to application.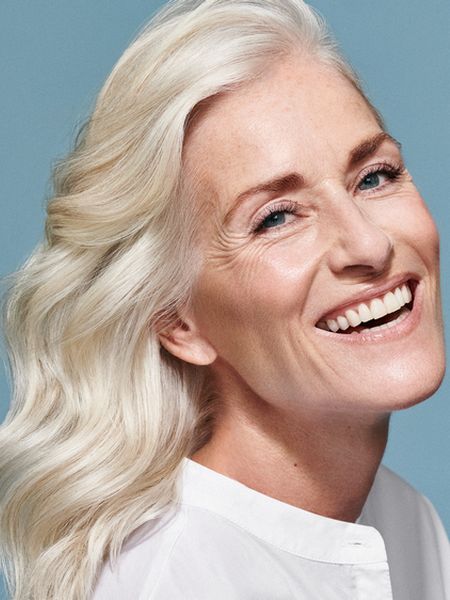 Streaking
Streaks are a great way to gently add highlights to your hair, giving you a great, but subtle new look.
Effect: In principle, streaking works like bleaching. The lightening process is the same, but you only apply product to certain sections of your hair, not the entirety. Streaking is a lot gentler on your hair overall since there's only partial application. If you want to conjure up the streaked look at home, have a friend help you with the sections on the back of your head that you can't get to so easily. Depending on the application technique, you can create fine streaks using a streaking hood or broader highlights with the supplied brush or applicator.
By the way: For natural-looking streaks, combine blonde streaks with various other shades. You might have to do this a few times to get it right, but practice makes perfect!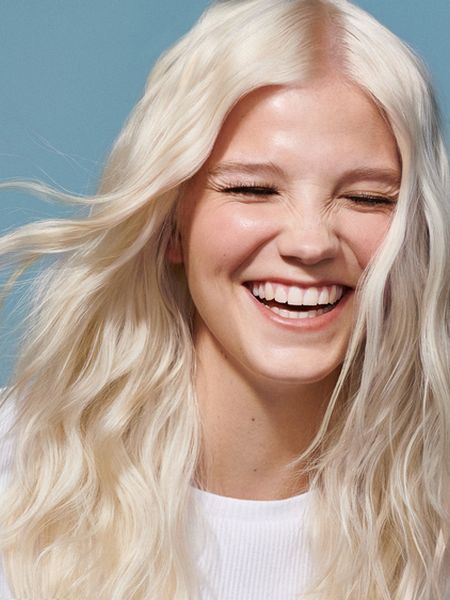 Dyeing
Unfortunately dyeing is generally not sufficient to effectively lighten your hair. However, it is ideal for creating interesting hair color effects. Examples include various gold, red or light brown highlights from honey to amber to caramel or mocha.
Effect: Unlike coloration or bleaching, dyeing does not penetrate deep into the hair but merely deposits its color particles directly under the hair cuticle. This makes dyeing very gentle and lends a particularly intensive gloss to the hair since the pigments increase light reflection.
By the way: If you are not satisfied with the resulting color, you do not have to put up with it for months – dyeing does not last nearly as long in your hair as coloration or bleaching. Here the durability level is important: Level 1 identifies a washable dye that lasts about six to eight washes. For intensive level 2 dyes, oxidative colors are mixed with hydrogen peroxide. They can last for up to 24 washes.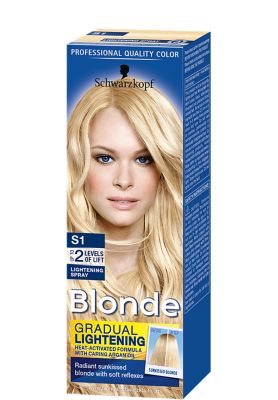 Create your sunkissed Blonde with gradual Lightening Spray up to 2 levels of lift.
Blonde Spray
If you prefer not to apply color, blonde spray is another effective hair lightening choice that gradually lightens your hair. Get the blonde effect in a few pumps and have natural-looking sun kissed locks.
Effect: Apply the product to your hair before blow drying (heat intensifies the lightening effect). It gradually lightens the color with very small amounts of hydrogen peroxide. A blonde spray should not be applied daily but only over a short period of time. When you hair has darkened in the winter and needs lightening up a bit, for instance.
By the way: Schwarzkopf Blonde Lightening Spray S1 is a great choice if you want to create soft sun reflections and give your hair a summery blonde look. Its nourishing argan oil formula is super easy to use and lightens your hair by ¼ of a shade each time you apply it. In order to achieve the maximum lightening effect of 1 to 2 shades, the spray should be re-applied every 2-3 days.
Simply dampen your hair, spray the lightening spray all over (or only on certain sections if you want highlights), then comb your hair as usual, and blow dry to activate the formula. Do not rinse out.