© Schwarzkopf
The Quick Fix for Damaged Hair
Is your hair brittle and dry with split ends and without any shine? We have good news for you: Cutting your hair is not the only solution! Alongside using great products like Gliss Total Repair shampoo, we'll tell you how proper care and gentle styling can bring vibrancy and shine back to your hair.
Most damaged hair is a result of bad hairstyling practices, extreme cold or hot weather, or just general wear and tear over the course of a busy life! You may have been using styling tools like brushes, blow-dryers, or curling irons too often or even had several chemical treatments like bleaching or blonde streaks. Many factors can contribute to hair problems, but in most cases, improper care is the sole culprit. Over time, rough treatment dries the hair out, the naturally smooth cuticle layer becomes rough, and the hair starts to appear brittle and split ends begin to show.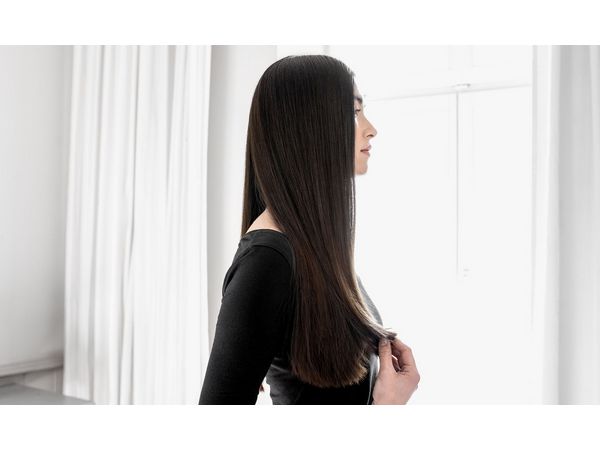 How to care for your damaged hair
Keeping your hair in tip top condition doesn't have to be expensive or time-consuming. Read on for ten tips you can do right now and you'll be on your way to luscious locks in no time!
Tip 1 - Stay loyal to your shampoo
You might have heard the opposite – that your hair reacts better when you switch shampoos often. This, however, is a myth and experts recommend searching until you find the right product for you and then sticking with it.
Tip 2 - Limit your time in the sun
You protect your skin from the sun's harmful UV rays, so why not your hair? Applying a leave-in conditioner or an intensive hair mask every other day can work wonders against sun damage.
Tip 3 - Be gentle while brushing
Yanking a brush through tangled hair is not recommended. Instead, use a wide-toothed comb and take your time, brushing from the bottom to the top. This way you avoid hair breakage and don't cause even more knots.
Tip 4 - Take a cool shower.
When washing your hair, don't have the watertemperature too hot. Too much heat can rid your hair of volume and leave it looking limp. Warm water still enables you to lather up your shampoo, but doesn't cause any damage. For the last rinse, go for cold water so that all the nutrients are locked in, giving your mane a gorgeous shine.
Tip 5 - Less is more
This is definitely true when it comes to how much product to use. Coating your locks in shampoo or conditioner doesn't make them any cleaner, it just means you're wasting product. Shampoo works best just on the scalp where oil builds up, and conditioner works best midway up your hair to the ends where it's prone to split ends.
Tip 6 - Use protection at night
Invest in a silk pillow or wrap your hair up in a silk scarf while you catch some ZZZs. A normal cotton pillowcase can cause friction, which leads to hair breakage, but this isn't the case with silk thanks to its smooth texture.
Tip 7 - Give yourself a scalp massage
Massaging your scalp stimulates your hair follicles and boosts blood flow around the scalp, promoting healthy hair growth.
Tip 8 - Free your hair
If you usually scrape your hair back and tie it too tightly, this could cause a lot of damage in the long run. Let your hair down every so often to let it 'breathe'. When you do tie your hair back, use a soft hair tie like a scrunchie and never ever use a household rubber band.
Tip 9 - Don't brush wet hair
Damp hair is three times weaker than when it's in its dry state and therefore it's more prone to breakage. The best solution is to towel dry your hair and then use a wide-toothed comb to detangle.
Tip 10 - Finger tips for better scalp care
This tip might sound a bit crazy at first, but hear us out. Sometimes there's nothing better than a good scratch, but digging your nails into your scalp is going to cause more harm than good. When lathering up the shampoo in your hair, use your fingertips instead for a gentler, less damaging cleanse.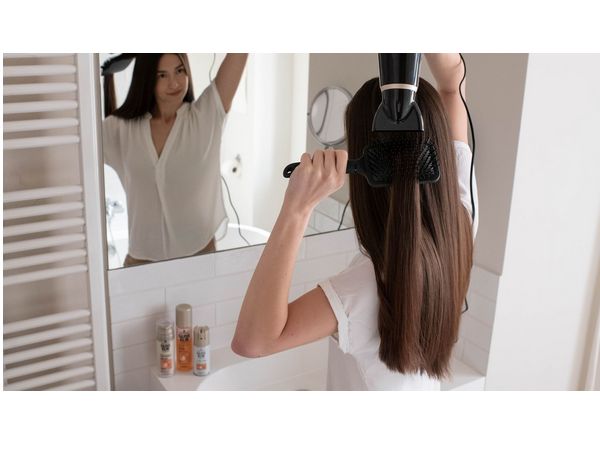 Styling damaged hair very softly
You might not know it, but your hair swells during shampooing. Freshly washed hair is therefore particularly sensitive and so needs extra care. Air-drying your hair is the best option, but if there is no time for such luxury then you should use proper blow-dryer techniques and set it to full air stream but never to higher than medium heat. This keeps the exposure to the blow-dryer short and the drying effect to a minimum. Every so often, see how long you can go without using heat-styling tools like flat irons, curling irons, or heated rollers to give your hair a bit of a break. 
The end(s) of damaged hair
Hair oil can help if split ends are the most obvious part of the damage to your hair. The silicone oil in these fluids mend the split ends at least temporarily, thus eliminating the frizzy look. Simply work a few drops of oil through your towel-dried hair and then allow it to dry in the usual way. Rolling the split ends over a round brush while blow-drying them also takes away some of the frizzy look.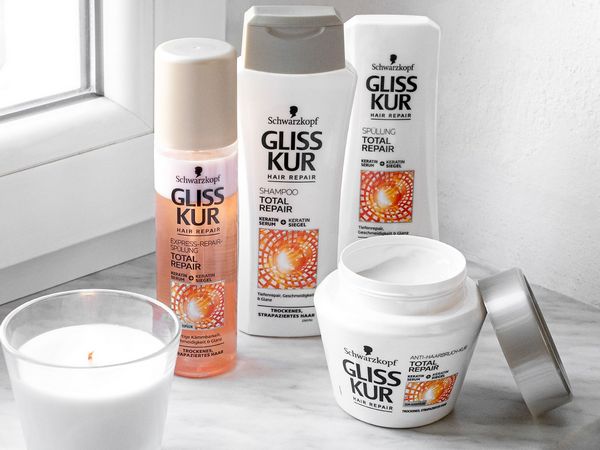 Benefits of using Gliss Total Repair
To fight damaged hair while still using a product that cares, protects, and cleans your hair, then it's best to turn to Schwarzkopf's Gliss Total Repair range. Containing liquid keratin that reconstructs and renews hair strands on the outside and inside, as well as 19 active ingredients which leave your locks supple and healthy like never before, Gliss Total Repair is the antidote to dry and damaged hair. With continued use, you'll experience up to 85% less hair breakage and will feel the difference with a formula that repairs your hair but still leaves it looking shiny and strong.
Simply massage Gliss Total Repair shampoo into wet hair like normal and rise carefully afterward. Gliss Total Repair shampoo is suitable for regular use and works great in combination with more products from our Total Repair range such as the conditioner. Opt for the Anti Breakage Treatment hair mask, for up to 95% less hair breakage and ultimate moisture that your hair's been craving.
If you're in a rush and want shiny, healthy-looking hair asap then grab a bottle of Ultra Moisture Express Repair conditioner. This leave-in conditioner provides your hair with instant combability, protection against hair breakage as well as intense hydration – your locks will thank you for it.
The Gliss Total Repair Shine Tonic is also designed to be left in the hair and comes in a handy 100ml spray bottle, perfect for when you're on the go and need an extra spritz of shimmering shine as well as protection against your hair drying out. Another product great for on the go is the mini mask, a resealable shine boost for your locks, packed to the brim with keratin serum and keratin sealer.