© Schwarzkopf
Seal split ends without reaching for the scissors
We could all do with a little miracle every now and again. Split ends can be frustrating, making your hair appear lackluster and dull. Did you know that you can actually seal split ends? You can wait a bit longer for your next salon appointment and find out how to repair split ends at home.

The split factor
Split ends are nothing to worry about as they'revery common and usually occur when hair becomes brittle and dry. Stressors such as straightening, blow drying, curling,and styling your hair on the go are just a few factors that might lead to your hair strands splitting. However extreme weather conditions, sun exposure, chlorine, and sea salt also have an effect on your hair and can be the reason for split ends.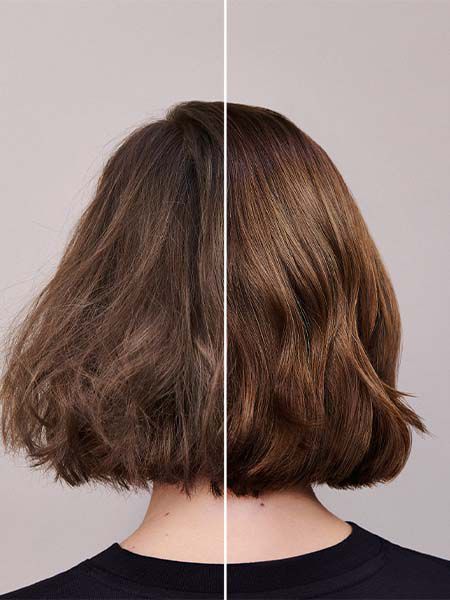 The good news is that you don't have to run to the salon or grab your kitchen scissors. The Gliss Kur Miracle range is a miracle repair for your split ends. The products act like a zipper for your hair, sealing each strand individually and smoothing it down. The ingredients even out the structural differences that naturally occur over time and help to equalize, smooth, and seal damaged hair strands.

No more scissors
Repairing and looking after split ends doesn't have to be a time-consuming matter. Simply switch your usual shampoo to Gliss Kur Split Hair Miracle Sealing Shampoo. All you need to do when shampooing your hair is to massage it into your wet hair and then rinse out thoroughly, it's that simple. Combine with Gliss Kur Split Hair Miracle Sealing Conditioner to get the full smoothing effect for each hair strand. This conditioner helps to soften and strengthen hair from root to tip. For the ultimate split end cure, add the Gliss Kur Sealing 2-in-1 Treatment to your routine. Apply on wet hair before or after washing your hair then leave it on for 2-3 minutes and rinse thoroughly, ensuring that water runs clear. For the full nourishing effect, use 2-3 times a week.
Untangle your hair
If your hair gets tangled and your hairbrush gets stuck on the regular, it could also be a sign that your hair is damaged. Gliss Kur Split Hair Miracle Express Repair Conditioner smooths and seals each strand with ionic complex and grape seed oil and is perfect when you need to untangle your hair on the go. Simply shake the bottle before use and then spray into towel-dried or dry hair and leave in. Use it after every hair wash or when needed. If you prefer using serums, then try the Gliss Kur Split Hair Miracle Serum. Simply apply it to wet or dry hair for shiny healthy-looking hair with no split ends in sight.