© Schwarzkopf
How to avoid winter hair damage
You may have already read our article on 7 tips for winter hair care and now we'd like to add to that list with even more ways to keep your hair in tip-top shape when winter has other ideas.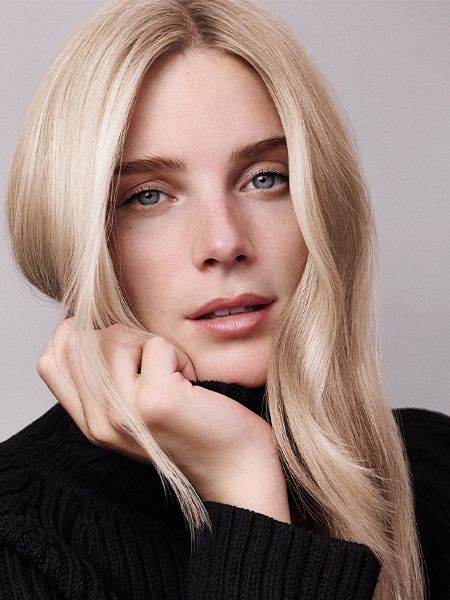 Introducing Gliss Kur Winter Repair
Our new Gliss Kur Winter Repair range has been specially developed to repair winter-damaged hair. Not content with just cleansing, repairing, and protecting your hair from drying out, the innovative range also boasts an anti-frizz and anti-static effect to keep hair soft and banish annoying flyaways. Infused with cranberry extract, the range transforms damaged hair and proves stressed winter hair is a thing of the past.
The winter SOS range consists of:
Gliss Kur Winter Repair Nourishing Shampoo: Cleanses and protects your hair as well as repairs its structure and provides more resistance for your hair.

Gliss Kur Winter Repair Nourishing Conditioner: Provides care and repair, protects against that dry hair feeling, boasts an anti-frizz effect, and at the same time provides more resistance for your hair.
Gliss Kur Winter Repair Nourishing 2-in-1 Treatment: Gives care and repair as well as protection against dry hair, has an anti-frizz effect, and strengthens your hair. This 2-in-1 treatment can either be used before you shampoo for light care, or it can be applied after washing for intensive care.
Gliss Kur Winter Repair Nourishing Express Repair Conditioner: Makes your hair instantly softer, more resistant, and reduces flyaways.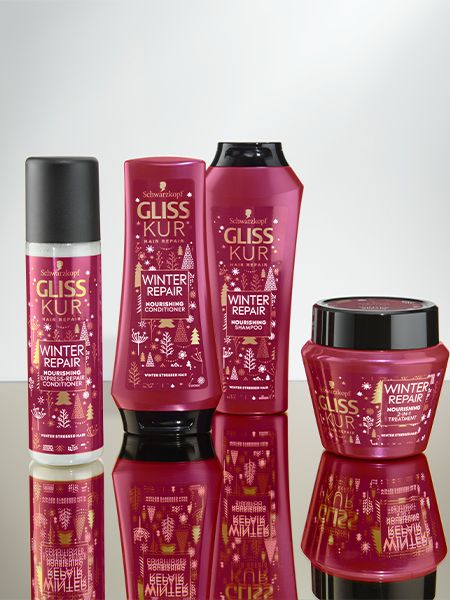 Additional winter hair care tips
And to ensure extra protection for the winter months, here are some extra tips we've collected to help you out:
Use leave-in conditioner to combat static

Fine strands everywhere mean that the cold season is here, but you don't have to grin and bear it. Flyaways are a sign of dryness so to combat them, it's important that you keep your hair hydrated. So on top of using your regular conditioner, we also recommend you lock in the moisture with a leave-in conditioner, such as Gliss Kur Winter Repair Nourishing Express Repair Conditioner mentioned above, which offers care and repair as well as provides an anti-frizz effect to reduce annoying static.
 
Don't leave the house with wet hair

You might find this is your only option in the morning when time isn't on your side, but it could be doing more harm than good. This is because wet hair is more vulnerable to damage than dry hair since the cold can cause your hair shaft to expand, leading to breakage. Even though we don't recommend you blow dry your hair too much in winter, if you really don't have time to air-dry then it's better than leaving your house with soaking wet hair.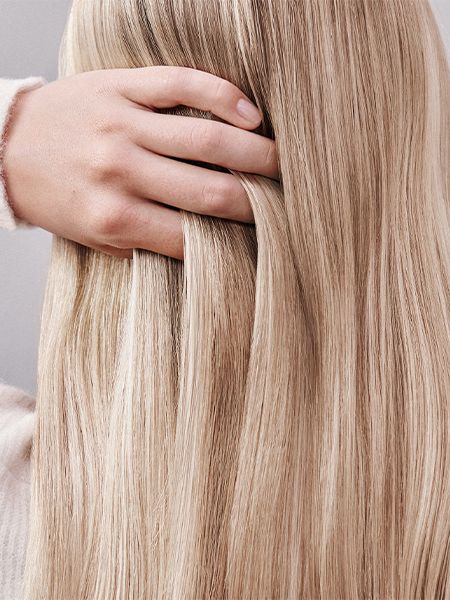 Use dry shampoo for more volume

If your hair is looking a little limp from taking your hat off numerous times a day, instead of washing it more frequently (which can wash away the protective oils), opt for dry shampoo to give it a lift and add volume as well as the illusion of more fullness.
 
Turn down the shower temperature

You'd be forgiven for wanting a nice, warm, relaxing shower after coming in from the freezing outdoors. Your hair is thinking the opposite though and this is because hot water can reduce the moisture in your hair, leaving it more vulnerable to breaking. The best solution is to use lukewarm water and leave your hair with all its hard-earned nourishment.
 
Invest in a humidifier

A humidifier might not be the first thing you think of when fighting dry hair but investing in one isn't a bad idea. When heating your house in the winter, the air becomes really dry and depletes your hair of much-needed moisture. Humidifiers rehydrate the air, which in turn rehydrates your hair.