© Schwarzkopf
Solid Shampoo Bars: Our favorite all-rounder
Solid shampoo bars are one of the best beauty buys around – but they're really underrated! So much so that you may be asking yourself what this little miracle bar actually is. The answer is simple enough: Solid shampoo that usually comes in a bar shape (like soap, only gentler on your hair). Find out why they're so awesome – a little hint: they're not only good for you, but for the planet, too!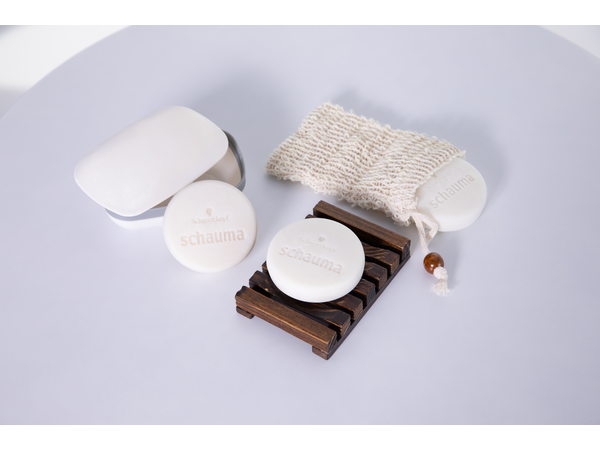 The friendliest bar in town!
Travel friendly, eco-friendly, and budget friendly; you'd be hard pressed to find a bad word to say about solid shampoo. Because this shampoo isn't liquid, it can be sold without the packaging. Most conventional shampoos are sold in plastic bottles, and we all know by now that plastic is bad news for our planet, especially the ocean. By making the switch to solid shampoo, you can save up to two bottles of plastic per bar. If you've got a head for numbers, you'll have realized that solid shampoo therefore also lasts longer than your normal bottle of shampoo. For every two bottles, you'll most likely only need one bar of shampoo, which will save you money in the long run. A win-win! Another benefit to solid shampoo bars is how well they travel. Never face exploded shampoo after that long-haul red eye again and save having to check shampoo as one of your liquids for your carry-on luggage. These little bars are total overachievers, and we love them!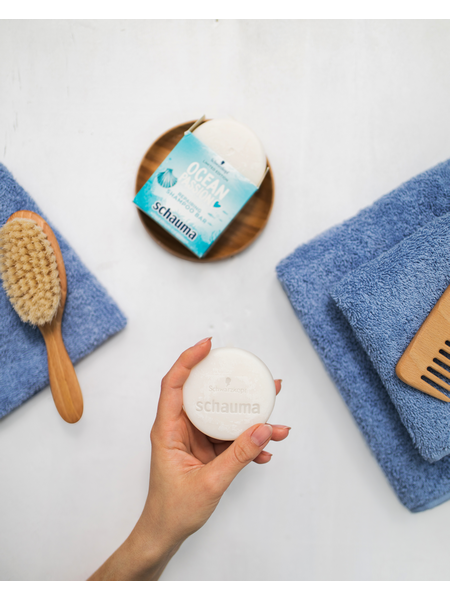 Schauma Ocean Passion: Kind to your hair, kind to your planet
We get it – switching from your trusted shampoo can feel risky, so let us introduce you to the Schwarzkopf Schauma Ocean Passion range to get you started on your solid shampoo transition. The range has all the benefits of solid shampoo we love: it is packaged in cardboard rather than plastic, and lasts for an average of 30 washes (depending on your hair). It has the additional bonuses of being vegan, as well as silicone and paraben free, and it doesn't contain any artificial colorants or sulfate surfactants.
The right Schauma Ocean Passion bar for your hair will depend on your needs. Luckily, there are two options for you. If your hair is feeling a little dry and lacking its usual bounce, the Schauma Ocean Passion Repairing Shampoo Bar could be just the ticket. Perhaps you're looking more to maintain your hair's shine and lock in maximum moisture, in which case you should opt for the the Schauma Ocean Passion Moisturizing Shampoo Bar. In any case, whichever solid shampoo bar you opt for, know that you're helping to reduce plastic waste whilst giving your hair the love and care it deserves!
If after reading all this, you'd still rather opt for liquid shampoo, you're in luck! Schauma's Ocean Passion range also boasts repairing shampoo in a bottle made from 96% recycled plastic, with half of this amount actually being collected from beaches and the land! Great hair with great conscience.