© Schwarzkopf
Corkscrew curls: Do-it-yourself styling
Wrapped around your finger: Corkscrew curls are capturing the runways and our heads! We tell you everything you need to know about the little curls, which styles are best for them and how even women with straight hair can follow the curly trend
It seems to be a law of nature that one always wants one doesn't have: Women with curly hair want it to be straight, while sleek women long for a wild, flowing mane. Fortunately both can be arranged. Here however we are focusing on the season's curly trend, since the corkscrew curl look is making the rounds again. And this makes everyone happy! A law of nature.
Do-it-yourself corkscrew curls
Just like the name says, the spiral curls are in fact derived from the corkscrew. To get the right twist, the wild and wavy mane must not be too frizzy, but also not too coarsely curled. A curling iron is best for playing with these curls – just follow this rule:

The larger the diameter of the curling iron, the bigger the curls:
Step-by-step instructions
1. Comb towel-dried hair well and make a parting.
2. For added bounce, apply a hazelnut sized dab of curl mousse to the lengths and then blow-dry the hair.
Volume tip: Use your fingers to lift the hair at the hairline while drying.
3. Then comb the hair straight and pick up the curling iron.
4. Wrap the hair around the curling iron strand by strand until the entire mane is curly. Professional tip from Armin Morbach: 'For an orderly look, twist all curls to the back.'
5. Attention: Do not brush after curling!
6. If necessary, shape the corkscrew curls with a styling needle and secure the style with plenty of hairspray.
Hair styles with corkscrew curls
Ringlets have left their good girl image at home this season, presenting themselves as exciting and casual. Forget sweet braids and put your money on the wild hairstylist look with loose hair, seen for example with Blugirl at the Milan fashion week. Do you want to realise a different twist too? See for yourself!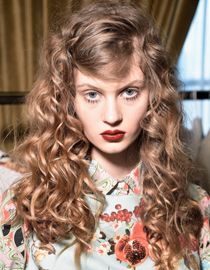 Corkscrew curls with fake fringe:
Temperamental yet innocent: Undone styled fake fringe plus long, golden curls create a seductive Lolita look.
How it's done: Make a short side parting and create corkscrew curls. Style the fringe over the forehead and secure on the side with bobby pins. For the undone effect: Slightly spread and loosen the fake fringe with the fingertips. Apply hairspray, finished!
Corkscrew curls with parting:
Passionate and cool: Corkscrew curls with side or centre parting lie with special beauty in the trendy Clavi Cut length. A bit of dramatic colour on the lips makes other accessories superfluous.
How it's done: Make a parting, form corkscrew curls, leave a bit straight at the hairline, finished!
Left: Smart version: The Blugirl model with parting and corkscrew curls
Corkscrew curls in the afro look:
Casual and impudent: The corkscrew curl trend also works with shorter hair. This turns the classic bob hairstyle into an exciting afro mane.
How it's done: Style corkscrew curls, blow-dry over the head and pluck into shape with your fingers.
Left: Messy, styled corkscrew curls with scallywag charm at Blugirl