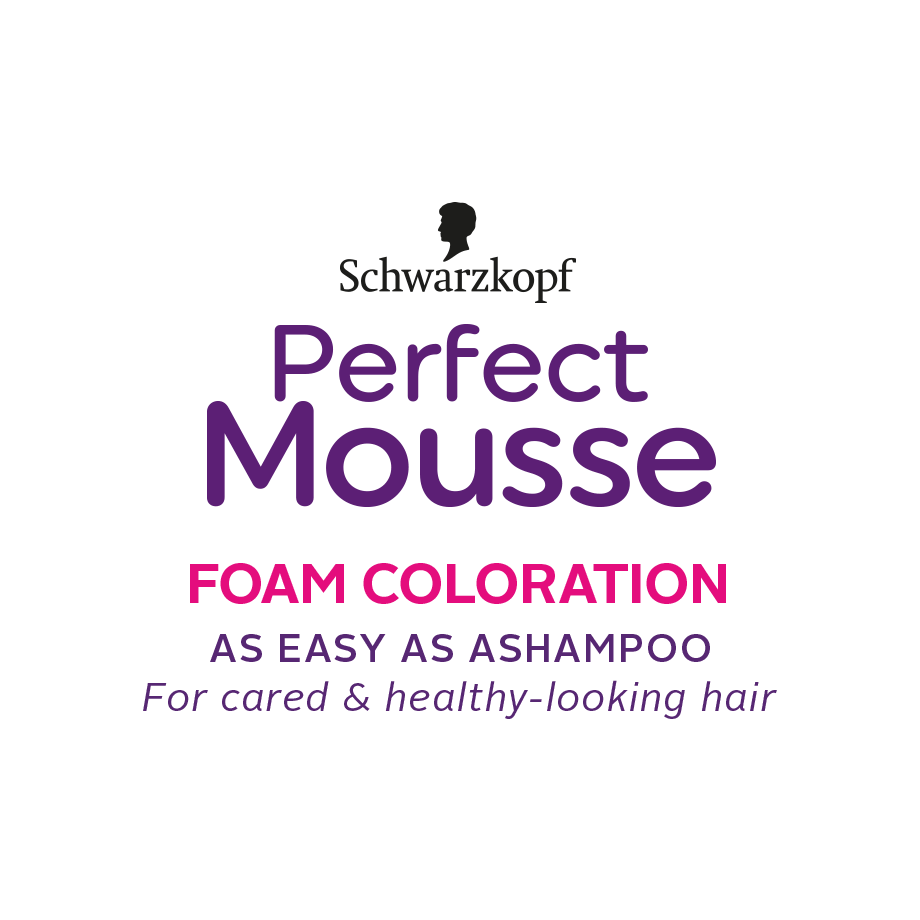 Color Results

dark blonde

light brown

medium brown

This shade is suitable for dark blonde to medium brown.

 

Perfect Mousse Lively Copper provides an intense, glossy color result. Coloring your hair in a red shade is one beautiful way to turn your brown hair in a striking color. Perfect Mousse Lively Copper gives your dark hair a fresh and bright look, with which you can totally change your outer appearance.


This shade has a bright tint into a warm red that perfectly suits to green or blue-eyed women with a light skin.

 

INCREDIBLE COLOR INTENSITY, 0% AMMONIA 

 

Enjoy your new, intense and even hair color with lasting color shine and perfect grey coverage without ammonia.


 

OUTSTANDING CARE PERFORMANCE

 

Fall in love with your new, soft and even hair color with +30%* more care.
The new formula with Nutri-Silk smoothens the hair for a subtle and radiant color result.


 

EASY TO APPLY LIKE A SHAMPOO

 

Easy dosage and even application. Rich, non-dripping foam. Soft and pleasant perfume. For a thoroughly pleasant coloration experience. 

                                                                                          *vs. untreated hair

Color Results

light brown

medium brown

dark brown

This shade is suitable for dark brown to light brown.

 

Perfect Mousse Mahogany provides an intense, glossy color result. Coloring your hair in a red shade is one beautiful way to turn your brown hair in a striking color. Perfect Mousse Mahogany gives your dark hair a fresh and bright look, with which you can totally change your outer appearance.


This shade has a bright tint into a warm red that perfectly suits to green or blue-eyed women with a light skin.

 

INCREDIBLE COLOR INTENSITY, 0% AMMONIA 

 

Enjoy your new, intense and even hair color with lasting color shine and perfect grey coverage without ammonia.


 

OUTSTANDING CARE PERFORMANCE

 

Fall in love with your new, soft and even hair color with +30%* more care.
The new formula with Nutri-Silk smoothens the hair for a subtle and radiant color result.


 

EASY TO APPLY LIKE A SHAMPOO

 

Easy dosage and even application. Rich, non-dripping foam. Soft and pleasant perfume. For a thoroughly pleasant coloration experience. 

                                                                                          *vs. untreated hair

Color Results

medium brown

dark brown

black

This shade is suitable for black to medium brown.


Perfect Mousse Dark Redbrown provides an intense, glossy color result.

 

Red hair is still the color to wear. It gives your dark hair a fresh and bright look, with which you can totally chance your outer appearance.

 

Dark Redbrown is a brown shade with a bright tint into an intensive red to create one unique hue that will suit anyone.




INCREDIBLE COLOR INTENSITY, 0% AMMONIA 

 

Enjoy your new, intense and even hair color with lasting color shine and perfect grey coverage without ammonia.


OUTSTANDING CARE PERFORMANCE

 

Fall in love with your new, soft and even hair color with +30%* more care.
The new formula with Nutri-Silk smoothens the hair for subtle and radiant color results.


EASY TO APPLY LIKE A SHAMPOO

 

Easy dosage and even application. Rich, non-dripping foam. Soft and pleasant perfume. For a thoroughly pleasant coloration experience. 

                                                                                          *vs. untreated hair

Color Result

medium brown

dark brown

black

This shade is suitable for black to medium brown.

 

Perfect Mousse Icy Black shade provides an intense, deep black shade that perfectly covers greys if necessary.


We recommend to combine Perfect Mousse Black with a fair skin tone and a bright red lipstick to create the typical "snow-white" look.

 

INCREDIBLE COLOR INTENSITY, 0% AMMONIA 

 

Enjoy your new, intense and even hair color with lasting color shine and perfect grey coverage without ammonia.
 

OUTSTANDING CARE PERFORMANCE

 

Fall in love with your new, soft and even hair color with +30%* more care.
The new formula with Nutri-Silk smoothens the hair for subtle and radiant color results.
 

EASY TO APPLY LIKE A SHAMPOO

 

Easy dosage and even application. Rich, non-dripping foam. Soft and pleasant perfume. For a thoroughly pleasant coloration experience. 

 

                                                                                          *vs. untreated hair
 

Color Results

medium brown

dark brown

black

This shade is suitable for black to medium brown.


Perfect Mousse Black shade provides an intense, deep black shade that perfectly covers greys if necessary.

 

We recommend to combine Perfect Mousse Black with a fair skin tone and a bright red lipstick to create the typical "snow-white" look.



 

INCREDIBLE COLOR INTENSITY, 0% AMMONIA  

 

Enjoy your new intense, even hair color with lasting color shine and perfect grey coverage.

 

OUTSTANDING CARE PERFORMANCE

 

Fall in love with your new soft, even hair color with +30%* more care.
New formula with Nutri-Silk smoothens the hair for subtle and radiant color result.



EASY TO APPLY LIKE A SHAMPOO

 

Easy dosage and even application. Rich, non-dripping foam. Soft and pleasant perfume. For a thoroughly pleasant coloration experience.

                                                                                          *vs. untreated hair

Color Results

medium brown

dark brown

black

This shade is suitable for black to medium brown.


Perfect Mousse Black Brown provides an intense, glossy color result. From Hazelnut brown to Black Brown, brown hair is always a feminine, beautiful and timeless choice in color.

 

Perfect Mousse Black Brown is perfect for you if you strive for a natural looking hair color. It underlines your natural brown hair, refreshes the color and perfectly covers greys if necessary.


 

INCREDIBLE COLOR INTENSITY, 0% AMMONIA 

 

Enjoy your new, intense and even hair color with lasting color shine and perfect grey coverage without ammonia.


OUTSTANDING CARE PERFORMANCE

 

Fall in love with your new, soft and even hair color with +30%* more care.
The new formula with Nutri-Silk smoothens the hair for subtle and radiant color results.


EASY TO APPLY LIKE A SHAMPOO

 

Easy dosage and even application. Rich, non-dripping foam. Soft and pleasant perfume. For a thoroughly pleasant coloration experience. 

                                                                                          *vs. untreated hair

 

Color Results

light blond

medium blond

dark blond

This shade is suitable for medium blond to light blond.

 

Perfect Mousse Medium Blond provides a brilliant, shiny color result. Blonde has always been one of the most eye catching hair colors. This shade provides a beautiful, natural looking medium blond hair color.

 

Helpful hint: Blond hair is demanding and needs more care than dark hair. Apply a rich hair mask weekly and protect it against the sun in the summer.

 

INCREDIBLE COLOR INTENSITY, 0% AMMONIA 

 

Enjoy your new, intense and even hair color with lasting color shine and perfect grey coverage without ammonia!
 

OUTSTANDING CARE PERFORMANCE

 

Fall in love with your new, soft and even hair color with +30%* more care.
The new formula with Nutri-Silk smoothens the hair for subtle and radiant color results.


 

EASY TO APPLY LIKE A SHAMPOO

 

Easy dosage and even application. Rich, non-dripping foam. Soft and pleasant perfume. For a thoroughly pleasant coloration experience. 

                                                                                          *vs. untreated hair

Color Results

light blond to medium blond

dark blond

light brown

This shade is suitable for medium brown to light blond.

 

Perfect Mousse Platinum Blond gives your hair a permanent brightening for up to 3 levels and a perfect grey coverage. The result is an intense and long-lasting blond color.

 

Helpful hint: Blond hair is demanding and needs more care than dark hair. Apply a rich hair mask weekly and protect it against the sun in the summer.

 

INCREDIBLE COLOR INTENSITY, 0% AMMONIA 

 

Enjoy your new, intense and even hair color with lasting color shine and perfect grey coverage without ammonia!


 

OUTSTANDING CARE PERFORMANCE

 

Fall in love with your new, soft and even hair color with +30%* more care.
The new formula with Nutri-Silk smoothens the hair for subtle and radiant color results.


 

EASY TO APPLY LIKE A SHAMPOO

 

Easy dosage and even application. Rich, non-dripping foam. Soft and pleasant perfume. For a thoroughly pleasant coloration experience. 

                                                                                          *vs. untreated hair

Color Results

light blond

medium blond

dark blond

This shade is suitable for medium blond to light blond.

 

Perfect Mousse Medium Blond provides a brilliant, shiny color result. Blonde has always been one of the most eye catching hair colors. This shade provides a beautiful, natural looking medium blond hair color.

 

Helpful hint: Blond hair is demanding and needs more care than dark hair. Apply a rich hair mask weekly and protect it against the sun in the summer.

 

INCREDIBLE COLOR INTENSITY, 0% AMMONIA 

 

Enjoy your new, intense and even hair color with lasting color shine and perfect grey coverage without ammonia!


 

OUTSTANDING CARE PERFORMANCE

 

Fall in love with your new, soft and even hair color with +30%* more care.
The new formula with Nutri-Silk smoothens the hair for subtle and radiant color results.


 

EASY TO APPLY LIKE A SHAMPOO

 

Easy dosage and even application. Rich, non-dripping foam. Soft and pleasant perfume. For a thoroughly pleasant coloration experience. 

                                                                                          *vs. untreated hair

Color Results

light brown

medium brown

dark brown

This shade is suitable for light brown to dark brown.

 

Perfect Mousse Dark Ash provides an intense, glossy color result. From hazelnut brown to black brown, brown hair is always a feminine, beautiful and timeless choice in color.

This shade underlines your natural brown hair with a cool tone, refreshes the color and perfectly covers greys if necessary.

 

INCREDIBLE COLOR INTENSITY, 0% AMMONIA 

 

Enjoy your new, intense and even hair color with lasting color shine and perfect grey coverage without ammonia.


 

OUTSTANDING CARE PERFORMANCE

 

Fall in love with your new, soft and even hair color with +30%* more care.
The new formula with Nutri-Silk smoothens the hair for subtle and radiant color results.


 

EASY TO APPLY LIKE A SHAMPOO

 

Easy dosage and even application. Rich, non-dripping foam. Soft and pleasant perfume. For a thoroughly pleasant coloration experience. 

                                                                                          *vs. untreated hair

Color Results

dark blond

light brown

medium brown

This shade is suitable for medium brown to dark blond.

 

Perfect Mousse Light Brown provides an intense, glossy color result. From hazelnut brown to black brown, brown hair is always a feminine, beautiful and timeless choice in color.

 

This shade underlines your natural hair color with a cool tone, refreshes the color and perfectly covers greys if necessary.

 

INCREDIBLE COLOR INTENSITY, 0% AMMONIA 

 

Enjoy your new, intense and even hair color with lasting color shine and perfect grey coverage without ammonia.


 

OUTSTANDING CARE PERFORMANCE

 

Fall in love with your new, soft and even hair color with +30%* more care.
The new formula with Nutri-Silk smoothens the hair for a subtle and radiant color result.


 

EASY TO APPLY LIKE A SHAMPOO

 

Easy dosage and even application. Rich, non-dripping foam. Soft and pleasant perfume. For a thoroughly pleasant coloration experience. 

                                                                                          *vs. untreated hair

Color Results

dark blond

light brown

medium brown

This shade is suitable for medium brown to dark blond.

 

Perfect Mousse Light Brown provides an intense, glossy color result. From hazelnut brown to black brown, brown hair is always a feminine, beautiful and timeless choice in color.

 

This shade underlines your natural hair color with a cool tone, refreshes the color and perfectly covers greys if necessary.

 

INCREDIBLE COLOR INTENSITY, 0% AMMONIA

 

Enjoy your new, intense and even hair color with lasting color shine and perfect grey coverage without ammonia.


 

OUTSTANDING CARE PERFORMANCE

 

Fall in love with your new, soft and even hair color with +30%* more care.
The new formula with Nutri-Silk smoothens the hair for a subtle and radiant color result.


 

EASY TO APPLY LIKE A SHAMPOO

 

Easy dosage and even application. Rich, non-dripping foam. Soft and pleasant perfume. For a thoroughly pleasant coloration experience. 

                                                                                          *vs. untreated hair

Color Results

dark blond

light brown

medium brown

This shade is suitable for medium brown to dark blond.

 

Perfect Mousse Light Brown provides an intense, glossy color result. From hazelnut brown to black brown, brown hair is always a feminine, beautiful and timeless choice in color.

 

This shade underlines your natural hair color with a cool tone, refreshes the color and perfectly covers greys if necessary.

 

INCREDIBLE COLOR INTENSITY, 0% AMMONIA 

 

Enjoy your new, intense and even hair color with lasting color shine and perfect grey coverage without ammonia.


 

OUTSTANDING CARE PERFORMANCE

 

Fall in love with your new, soft and even hair color with +30%* more care.
The new formula with Nutri-Silk smoothens the hair for subtle and radiant color results.


 

EASY TO APPLY LIKE A SHAMPOO

 

Easy dosage and even application. Rich, non-dripping foam. Soft and pleasant perfume. For a thoroughly pleasant coloration experience. 

                                                                                          *vs. untreated hair

 

Color Result

dark blonde

light brown

medium brown

This shade is suitable for medium brown to dark blond.

 

Perfect Mousse Light Brown provides an intense, glossy color result. From hazelnut brown to black brown, brown hair is always a feminine, beautiful and timeless choice in color.

 

This shade underlines your natural hair color with a cool tone, refreshes the color and perfectly covers greys if necessary.

 

INCREDIBLE COLOR INTENSITY, 0% AMMONIA 

 

Enjoy your new, intense and even hair color with lasting color shine and perfect grey coverage without ammonia.


 

OUTSTANDING CARE PERFORMANCE

 

Fall in love with your new, soft and even hair color with +30%* more care.
The new formula with Nutri-Silk smoothens the hair for subtle and radiant color results.


 

EASY TO APPLY LIKE A SHAMPOO

 

Easy dosage and even application. Rich, non-dripping foam. Soft and pleasant perfume. For a thoroughly pleasant coloration experience. 

                                                                                          *vs. untreated hair

 

Color Result

light brown

medium brown

dark brown

This shade is suitable for dark brown to light brown.

 

Perfect Mousse Medium Brown provides an intense, glossy color result. From hazelnut brown to black brown, brown hair is always a feminine, beautiful and timeless choice in color.

This shade underlines your natural brown hair with a cool tone, refreshes the color and perfectly covers greys if necessary.

 

INCREDIBLE COLOR INTENSITY, 0% AMMONIA 

 

Enjoy your new, intense and even hair color with lasting color shine and perfect grey coverage without ammonia.


 

OUTSTANDING CARE PERFORMANCE

 

Fall in love with your new, soft and even hair color with +30%* more care.
The new formula with Nutri-Silk smoothens the hair for subtle and radiant color results.


 

EASY TO APPLY LIKE A SHAMPOO

 

Easy dosage and even application. Rich, non-dripping foam. Soft and pleasant perfume. For a thoroughly pleasant coloration experience. 

                                                                                          *vs. untreated hair

 

Color Results

light brown

medium brown

dark brown

This shade is suitable for dark brown to light brown.

 

Perfect Mousse Chocolate Brown provides an intense, glossy color result. From Hazelnut brown to black brown, brown hair is always a feminine, beautiful and timeless choice in color.

Brunettes can easily change their brown hair color by underlying it with special tones, that makes their hair shine warm when hit by the sunlight. Perfect Mousse Chocolate Brown is a medium brown shade which gives your hair a warm glow like chocolate.

 

 

INCREDIBLE COLOR INTENSITY, 0% AMMONIA 

 

Enjoy your new, intense and even hair color with lasting color shine and perfect grey coverage without ammonia.


 

OUTSTANDING CARE PERFORMANCE

 

Fall in love with your new, soft and even hair color with +30%* more care.
The new formula with Nutri-Silk smoothens the hair for subtle and radiant color results.


 

EASY TO APPLY LIKE A SHAMPOO

 

Easy dosage and even application. Rich, non-dripping foam. Soft and pleasant perfume. For a thoroughly pleasant coloration experience. 

                                                                                          *vs. untreated hair

 

Color Results

light brown

medium brown to dark brown

black

This shade is suitable for black to light brown.


Perfect Mousse Dark Brown provides an intense, glossy color result.

 

From Hazelnut brown to Black Brown, brown hair is always a feminine, beautiful and timeless choice in color.
Try this shade to achieve a frozen color shine. Dark Brown gives your hair the coolest, natural looking dark brown color and perfectly covers greys if necessary.




INCREDIBLE COLOR INTENSITY, 0% AMMONIA

 

Enjoy your new, intense and even hair color with lasting color shine and perfect grey coverage without ammonia.


OUTSTANDING CARE PERFORMANCE

 

Fall in love with your new, soft and even hair color with +30%* more care.
The new formula with Nutri-Silk smoothens the hair for subtle and radiant color results.


EASY TO APPLY LIKE A SHAMPOO

 

Easy dosage and even application. Rich, non-dripping foam. Soft and pleasant perfume. For a thoroughly pleasant coloration experience. 

                                                                                          *vs. untreated hair

Color Results

light brown

medium brown to dark brown

black

This shade is suitable for black to light brown.


Perfect Mousse Choco Fudge provides an intense, glossy color result. From Hazelnut brown to Black brown, brown hair is always a feminine, beautiful and timeless choice in color.

 

Perfect Mousse Choco Fudge is perfect for you if you strive for a natural looking hair color. It underlines your natural brown hair, refreshes the color and perfectly covers greys if necessary.


 

INCREDIBLE COLOR INTENSITY, 0% AMMONIA

 

Enjoy your new, intense and even hair color with lasting color shine and perfect grey coverage without ammonia.



OUTSTANDING CARE PERFORMANCE

 

Fall in love with your new, soft and even hair color with +30%* more care.
The new formula with Nutri-Silk smoothens the hair for subtle and radiant color results.


EASY TO APPLY LIKE A SHAMPOO

 

Easy dosage and even application. Rich, non-dripping foam. Soft and pleasant perfume. For a thoroughly pleasant coloration experience. 

                                                                                          *vs. untreated hair

Color Results

light brown

medium brown

dark brown

This shade is suitable for light brown to dark brown.

 

Perfect Mousse Warm Brown provides an intense, glossy color result. From hazelnut brown to black brown, brown hair is always a feminine, beautiful and timeless choice in color.

This shade underlines your natural brown hair with a cool tone, refreshes the color and perfectly covers greys if necessary.

 

INCREDIBLE COLOR INTENSITY, 0% AMMONIA 

 

Enjoy your new, intense and even hair color with lasting color shine and perfect grey coverage without ammonia.


 

OUTSTANDING CARE PERFORMANCE

 

Fall in love with your new, soft and even hair color with +30%* more care.
The new formula with Nutri-Silk smoothens the hair for subtle and radiant color results.


 

EASY TO APPLY LIKE A SHAMPOO

 

Easy dosage and even application. Rich, non-dripping foam. Soft and pleasant perfume. For a thoroughly pleasant coloration experience. 

                                                                                          *vs. untreated hair

Color Results

dark blond

light brown

medium brown

This shade is suitable for dark blond to medium brown hair.

The Perfect Mousse Bronzy Brown shade provides you with a beautiful tone of brown. If you strive for a naturally looking hair color, this shade is perfect for you.

We recommend to wear a nude make up to perfectly underline this warm hair color.

 

 

 

INCREDIBLE COLOR INTENSITY, 0% AMMONIA 

 

Enjoy your new, intense and even hair color with lasting color shine and perfect grey coverage without ammonia.


 

OUTSTANDING CARE PERFORMANCE

 

Fall in love with your new, soft and even hair color with +30%* more care.
The new formula with Nutri-Silk smoothens the hair for subtle and radiant color results.


 

EASY TO APPLY LIKE A SHAMPOO

 

Easy dosage and even application. Rich, non-dripping foam. Soft and pleasant perfume. For a thoroughly pleasant coloration experience. 

                                                                                          *vs. untreated hair

Color Results

light brown

medium brown

dark brown

This shade is suitable for light brown to dark brown hair.

 

Perfect Mousse Muted Brown shade provides you with the beautiful multitonal blond color. If you strive for a natural looking hair color, this shade is perfect for you.

 

We recommend to wear a nude make up to perfectly underline this warm hair color.

 

INCREDIBLE COLOR INTENSITY, 0% AMMONIA 

 

Enjoy your new, intense and even hair color with lasting color shine and perfect grey coverage without ammonia.


 

OUTSTANDING CARE PERFORMANCE

 

Fall in love with your new, soft and even hair color with +30%* more care.
The new formula with Nutri-Silk smoothens the hair for subtle and radiant color results.


 

EASY TO APPLY LIKE A SHAMPOO

 

Easy dosage and even application. Rich, non-dripping foam. Soft and pleasant perfume. For a thoroughly pleasant coloration experience. 

                                                                                          *vs. untreated hair

Color Results

medium blond

dark blond

light brown

This shade is suitable for medium blond to light brown hair.

The Perfect Mousse Dark Blond shade provides you with a beautiful multitonal blond color. If you strive for a naturally looking hair color, this shade is perfect for you.

Helpful hint: Blond hair is demanding and needs more care than dark hair. Apply a rich hair mask weekly and protect it against the sun in the summer.


 

 

INCREDIBLE COLOR INTENSITY, 0% AMMONIA 

 

Enjoy your new, intense and even hair color with lasting color shine and perfect grey coverage without ammonia.


 

OUTSTANDING CARE PERFORMANCE

 

Fall in love with your new, soft and even hair color with +30%* more care.
The new formula with Nutri-Silk smoothens the hair for subtle and radiant color results.


 

EASY TO APPLY LIKE A SHAMPOO

 

Easy dosage and even application. Rich, non-dripping foam. Soft and pleasant perfume. For a thoroughly pleasant coloration experience. 

                                                                                          *vs. untreated hair

Color Results

Darkblond

Light Brown

Medium Brown

This shade is suitable for dark blonde to medium brown.

 

Perfect Mousse Frosted Cocoa provides an intense, glossy color result. From Hazelnut brown to black brown, brown hair is always a feminine, beautiful and timeless choice in color.

The Frosted Cocoa is just like your delicious dark chocolate with a cool undertone that blends beautifully together for a unified frosty brown hue.


 

 

INCREDIBLE COLOR INTENSITY, 0% AMMONIA 

 

Enjoy your new, intense and even hair color with lasting color shine and perfect grey coverage without ammonia.


 

OUTSTANDING CARE PERFORMANCE

 

Fall in love with your new, soft and even hair color with +30%* more care.
The new formula with Nutri-Silk smoothens the hair for subtle and radiant color results.


 

EASY TO APPLY LIKE A SHAMPOO

 

Easy dosage and even application. Rich, non-dripping foam. Soft and pleasant perfume. For a thoroughly pleasant coloration experience. 

                                                                                          *vs. untreated hair

 
Application Full Head
1.

Before starting, put on the gloves supplied.

1. Fill the whole content of the color gel into the application bottle.
Then close the application bottle with the foaming top.

DO NOT SHAKE THE BOTTLE

2.

Turn the application bottle upside down 2−3 times to mix both liquids.

3.

Pump the foam directly into your hand. Application on dry, not pre-washed hair.

4.

Apply the foam on dry hair. Start applying the foam, where you have the most grey hair.

5.

Distribute the rest of the foam into the lengths of your hair and the back of your head.

6.

Thoroughly massage the foam into your hair, until it is completely covered with the foam.

7.

Make sure all outlines are evenly covered with the foam. Otherwise massage the foam from the top of your head into the outlines.

Processing time: 30 minutes

Please massage the foam from the top of your head into the hairlines once again after the half of processing time.

8.

At the end of the application time, apply warm water to the hair and work into lather. Then rinse out thoroughly until water runs clear.

9.

Massage the hair mask into your hair and leave for 2 minutes. Then rinse hair thoroughly.