© Schwarzkopf
Unique Wedding Hairstyles For Your Big Day
When it comes to your big day, you want to look back on it and think 'that was the best day of my life', but you also secretly want to be thinking 'wow, I looked stunning—my hair looked amazing'. Not every wedding hairstyle will suit every bride, but luckily there are so many gorgeous hairstyles to choose from, so you will definitely find the hairstyle that was made for you! To help you out, we thought we'd introduce you to three very different styles, just to show how unique wedding hairstyles can be.
Wedding hairstyle 1: Messy
This stunning hairstyle is best for medium to long hair and is also great for hair that likes to get its own way. A great advantage of this messy hairstyle is that if strands begin to fall out after you've completed the Macarena several times, it's not a biggie as it will just look like it's part of the hairstyle. You can't go wrong. Here's a step by step guide on how to achieve this messy wedding hairstyle: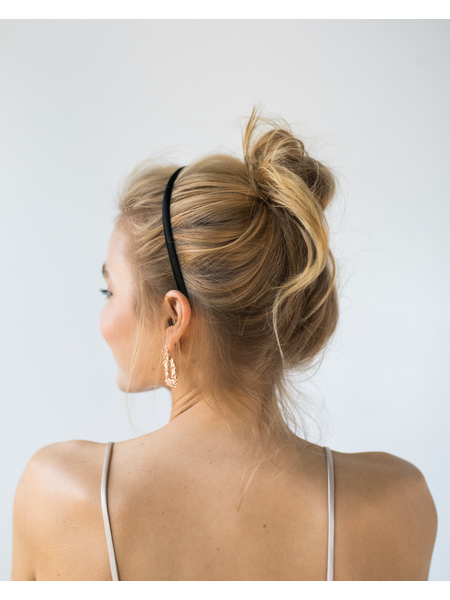 Step 1: Pull your hair back into a ponytail that is positioned halfway down your head and secure with a hair tie.
Step 2: Twirl the ponytail on itself until it forms a bun and push the end of the ponytail under the hair tie to hold it in place.
Step 3: Now it's time to make the bun messy. Pull a few sections out of the bun and curl them if necessary. Use bobby pins to secure the loose strands so they hang exactly how your want them to.
Step 4: Place a hair band at the front of your head and push forward to create a mini bouffant and to give your hairstyle more volume.  
Step 5: A few squirts of hairspray will keep this messy style in place.
Wedding hairstyle 2: Edgy
We all know that buns and chignons can look amazing as a wedding hairstyle, but if you want to step out of the box and steer away from traditional bridal hairstyles, perhaps you could use some edgier inspiration. Here's how to create this edgy, rock star look: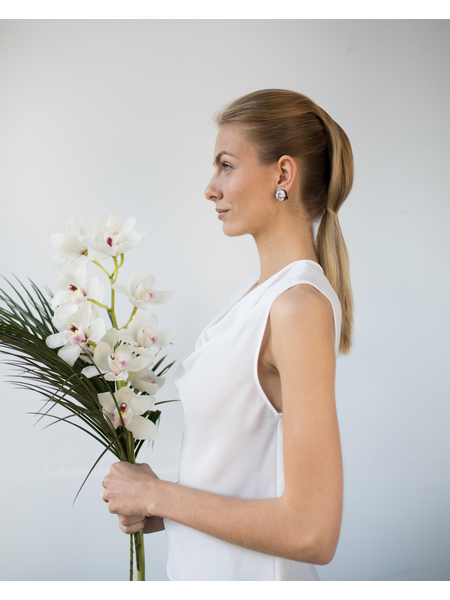 Step 1: Grab all the hair on the top of your head and make sure the part on both sides is straight. Pin it up out of the way and we'll come back to it later on.
Step 2: Now it's time to create the slicked sides. Grab the rest of your hair and pull it back into a medium-high ponytail. A comb will help ensure the sides are pulled back as tight as possible. Spray a generous amount of hairspray on both sides and comb back to make sure both sides look as sleek as possible i.e. no flyaway hairs.
Step 3: Now it's back to the section on top of your head. Undo the hair tie, and take a section of hair from the back. Tip: If you have quite thin or silky hair, spraying on some texturizing spray will help with grip. Backcomb this section to give it more volume.
Step 4: Backcomb the rest of the top section, starting from the back and working your way to the front. Take a small amount of hair at a time. Once all this section is teased, generously coat your locks in hairspray once again.
Step 5: Straighten the ponytail to make this edgy look even sleeker, but don't forget to use a heat protectant spray to protect your locks. And you're done. 
Wedding hairstyle 3: Romantic
There will be no shortage of romantic moments on your wedding day, so why not get your hair to follow the same theme? A romantic hairstyle should be soft and relaxed, and don't be scared to add some sparkly accessories. This particular romantic hairstyle is the easiest of the three, but still looks as if you've had it professionally done!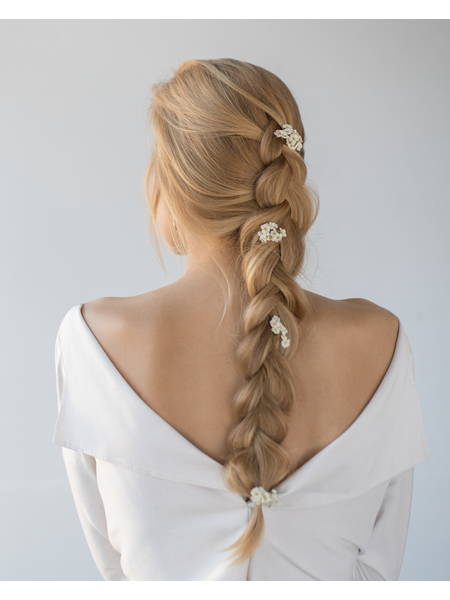 Step 1: First it's important to make sure that your hair is knot-free so you can braid it properly without your fingers getting stuck.
Step 2: At around ear level, divide your hair into three equal sections and begin to create a French braid by putting the left section over the middle section, then the right section over the middle section, etc.
Step 3: Once you've braided the whole of your hair, you might be left with quite a thin-looking braid. Now it's time to make it thicker. Holding the end of the braid in one hand, use the other hand to gently tug the sections upwards so the braid starts to look a bit messier. Work your way up to the top and do it all over again if you're not satisfied with the braid's 'messiness' at the end.
Step 4: If you want to add some wedding hair jewelry like on the model in the photograph, then thread it through the braid and position it so you can see as much of it as possible so its sparkle shines through.
Step 5: Don't forget the trusty hairspray to put the finishing touch to your romantic hairstyle.