© Getty Images
Step by Step to Olga Kurylenko's Hairstyle
The French model and actress Olga Kurylenko was born in the Ukraine. You may have seen her star as Camille in the James Bond movie 'Quantum of Solace'. She certainly has all the qualifications the 007 expects from his leading lady. Always the consummate model, she looks equally stylish when she is away from the silver screen. We show you in our hair tutorial how you can style a side-chignon the way Olga Kurylenko wears it
Many young actresses dream of playing the leading lady in a movie with Daniel Craig as James Bond. The young French model and actress Olga Kurylenko can add this experience to her acting credits. At the time, Olga Kurylenko was no newbie in the acting business. Among several other roles, she also played roles in dramatic movies such as 'To the Wonder' by screenwriter and producer Terrence Malick.
The Many Looks of Olga Kurylenko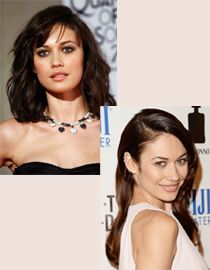 Of course, Olga Kurylenko loves changing into new styles, roles, and outfits! She is a model and an actress. She looked the part of 007s leading lady mostly wearing a medium-length bob with side parting and the front hair casually falling across her forehead. At a movie opening, she dazzled with her looks and her sleek hairstyle. Whatever style she selects for the day, an event or a role, she never loses her light unconcerned touch. Even the festive, elegant-looking side-chignon shows her ability to be at ease with herself.

Tools for styling the side chignon as shown by Olga Kurylenko:
Volumising mousse, hair oil, curling iron, hair pins, and hairspray
Styling the Side Chignon Shown by Olga Kurylenko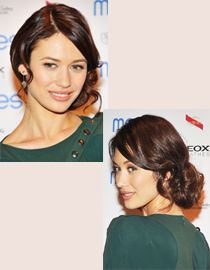 1. Apply styling mousse to your towel-dry hair to increase its manageability.
2. Use a tiny amount of hair oil to give your hair alluring lustre.
Be sure to work the hair oil only through the ends of your hair.
No oil should be put on the scalp or the hair close to the roots.
3. Gather your hair on one side of the lower neck in a ponytail.
Leave out one about 3''-wide strand of hair in front of the ponytail.
Use a curling iron to create soft waves in this strand of hair.
4. Use hairspray to give these soft waves more hold.
Take this front strand of hair and wrap it around the ponytail base.
Then secure the strand with bobby pins.
5. Now twist the ponytail until it curls into a chignon.
The chignon should cover the ear and it should be secured with hair pins.
6. The side-chignon will look softer and more casual after slightly pulling opposite loops outward.
7. Use sufficient hairspray to keep the side-chignon intact while you enjoy your day.