© Getty Images
Hair Tutorial: Cindy Crawford's Air Waves
Air waves are part of the up-and-coming hair style. Cindy Crawford impressed us with her modern version of this hair style classic. Stay tuned for some tips on how to give your air waves special appeal

No doubt, at age 45 Cindy Crawford is one of the most beautiful women in show business. In September, while attending the opening of the new Cirque du Soleil show with her entire family, she once again demonstrated the charm and style, which made her a super model in the 1990s. We also admired her exceptionally beautiful air waves. Her hair appeared casual yet glamorous with ample volume near the roots, soft large waves and silky lustre. Air waves are therefore suitable for leisure, work and festive occasions.
Air waves are nothing new. They were the trend in the 1980s and never went out of style. Back then, air waves and curls were piled up high and held up by mounts of hair spray. As Cindy Crawford demonstrated, today's new air wave versions are far more natural.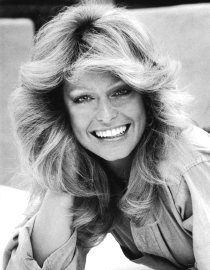 To create beautiful air waves you need a blow dryer and a round brush. You also need a bit of persistence. Handling both tools at the same time does take some skill but mastering it won't take you too long. Your hair should at least reach to your shoulders and it should be cut in a stepped way. Your hair is going to show its natural lustre if you treat it to regular hair cures and use a heat protectant before styling. Clear or matte gloss treatments add shine to your hair and dazzle with sophisticated light reflections. You find our simple instructions on creating air waves below.

The tools you need to create air waves:
Blow-dryer, large round brush, volumising mousse, and hair spray
Styling Instructions:
1. Comb your hair after working volumising mousse through it; then use your blow-dryer until your hair is slightly damp.
2. Attach the diffuser to you blow-dryer and continue blow-drying your hair while pulling your hair over a round brush. First dryer-shape the neck hair by pulling the round brush from the roots to the hair ends. The brush is pulled underneath every strand of neck hair. This gives your neck hair more volume and creates a slight inward wave.
3. Pull strands of your front hair outward over a round brush from the roots to the hair ends. This time, the brush is applied to the top of every hair strand.  
4. Accentuate individual strands by rolling them over the round brush while blow-drying. This creates a few curls among the waves.
5. Slightly comb through your hair using your fingers and apply some hair spray for extended hold.